Tour de France: Getting Bradley Wiggins to Paris in yellow

Last updated on .From the section Cycling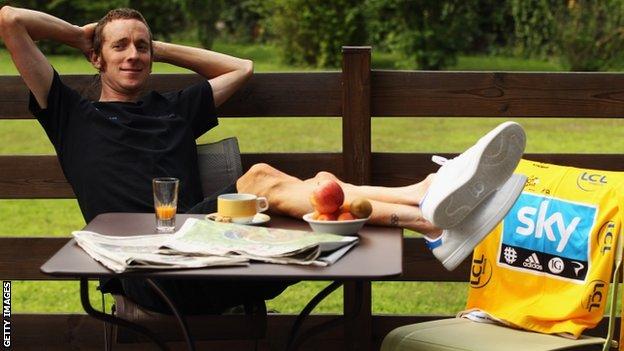 It goes without saying that Tour de France leader Bradley Wiggins is relying on his legs to get him over the Alps and Pyrenees and arrive safely in Paris wearing yellow.
But, if the 32-year-old Londoner is going to enjoy a victory parade down the Champs Elysees on 22 July, then what goes on in his head over the next 11 days will be just as important.
As Team Sky's head coach Shane Sutton told me on Tuesday's rest day, while Wiggins' precise preparation for the Tour was based on science, his hopes of winning it now rest on psychology.
Sutton, who together with Australian sports scientist Tim Kerrison revolutionised Wiggins' pre-Tour training and competition programme to ensure he peaked for the gruelling three-week race, is now playing a more old-school role - that of cajoler and motivator.
"All the work is done," Sutton told BBC Sport. "We can feed some information on Brad's performance to him if he wants, but the stats go out of the window at this stage.
"Right now it is just about making sure that he believes in what he is doing and that he believes in the work he has done before the Tour.
"If you have done the work, like Brad has, then you are not going to doubt yourself and that is all we keep reiterating to him and the rest of the team - you have done the work, you have prepared - and you are ready."
Wiggins is a complex character without the bravado of others at the apex of their sports, but his performance in Monday's time trial should mean the three-time Olympic track champion no longer needs convincing that he is indeed ready to become the first British winner in the Tour's 109-year history.
He blew away his nearest rival in the General Classification, defending champion Cadel Evans, clinching his first Tour stage win and extending his advantage over second-placed Evans from 10 seconds to one minute 53 seconds.
Sutton, his close friend, long-time coach and confidant, is currently tasked with preparing Team GB's track stars for the Olympics at Celtic Manor in South Wales, but flew over to France to follow Wiggins round the 41.5km course in the team car.
"It was a brilliant outcome," Sutton said. "Sometimes the less I say the better, so my last words to him before he went down the ramp were just 'go out and do your stuff'.
"He is one of the best in the world at time trialling and he showed it.
"Funnily enough it was almost 24 hours after the race by the time I saw him again because he was dragged straight off to anti-doping testing after finishing, then he had his press conferences and went off for his massage.
"We just had a cuddle when we met up and I said 'well done'. His wife Cath had turned up and he was looking nice and relaxed.
"He can get massive highs and lows whether he wins or loses but they come after the event, not during the process, and the Tour is like his mental safety net at the moment.
"During the three weeks he just travels to the start of each stage, puts his race number on, rides the stage and gets a massage afterwards.
"It's when he comes out of the bubble that he might be on a downer but at the moment he is mentally very strong, very confident and he honestly believes he can do this and take it all the way.
"We talk over the phone when I am not with him and the team during the Tour but there is no need to say a lot. He is in control of all of his emotions and my belief is that he is untouchable at the moment."
That theory is sure to be tested at some point in the next 1,156 miles that will take the 177 surviving riders to Paris, but Sutton is confident that Wiggins will not wilt in the high mountains.
"We have done everything in our grasp to make him ready for this," added Sutton.
"When Brad had a bad time in the 2010 Tour (he finished 24th after his fourth place in 2009), I think he realised he hadn't trained properly for the event. If you look back at it, he cracked at around 1,500-2,000m every time on the big climbs.
"That made us realise that he could not cope in the red zone at altitude, so we had to go away and do our homework and meet the demands of the Tour - the heat, and the rain too.
"We don't stand in the shower and train but we do go in the heat chambers and we went to Tenerife to get used to the altitude."
There is one other factor that Wiggins and Team Sky can never control - luck. A broken collarbone ended his bid in stage seven of last year's Tour and the number of crashes so far in this year's race are a constant reminder of the risks that riders run.
The changeable weather hardly helps either, but Sutton is confident that Wiggins can cope with whatever the Tour can throw at him.
"It is man against the elements with the Tour and that is the nature of the beast," added Sutton, a long-time member of the British Cycling set-up.
"It is not just nice and sunny for the guys to roll along in. You can get all sorts of weather out there - you can blow up in the heat or it could rain all day and affect the descents in the mountains.
"The skill needed to win the Tour is massive but Brad has all that skill in abundance.
"It doesn't mean that accidents don't happen but, touch wood, he had his fair share of bad luck when his chance of winning the Tour was ended last year, when I felt he was in great shape.
"Let's just hope we get through with a clean bill of health, but I am quietly confident that Brad can carry his form all the way to Paris."