2012 Giro d'Italia: Mark Cavendish crashes in sprint finish
Last updated on .From the section Cycling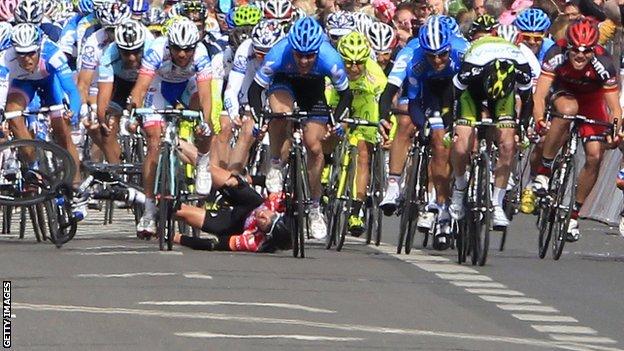 Mark Cavendish says a rival rider should be punished after causing the Briton to suffer a heavy fall during a sprint finish on the Giro d'Italia.
The Team Sky rider was brought down by Roberto Ferrari towards the end of the 190km third stage at Horsens, Denmark.
Cavendish, who crossed the finish line on foot wrote on Twitter: "Crashing at 75kph isn't nice. Nor is Ferrari's manoeuvre. Should be ashamed.
"Other riders, including myself, have been sent home for much less."
Team Sky sports director Steve De Jongh said Cavendish had "lost a lot of skin, but he is OK.
"It was a really nasty crash, I think the guy who caused that should be punished. You cannot make a manoeuvre like that."
If fit enough, Cavendish will be able to continue the race because he carried his bike unaided the 100 yards needed to cross the finish line.
The 26-year-old later added: "Is the team of Roberto Ferrari or the UCI [cycling's governing body] going to do the right thing?"
Italian Ferrari was relegated to last place by the race jury, but he said: "I didn't know who was behind me. In a sprint, I look straight ahead. I don't preoccupy myself with what's going on behind me."
Race leader Taylor Phinney, who was caught up in the accident, received treatment on his injured ankle on the road before he too crossed the line to hold on to the pink jersey before being taken to hospital.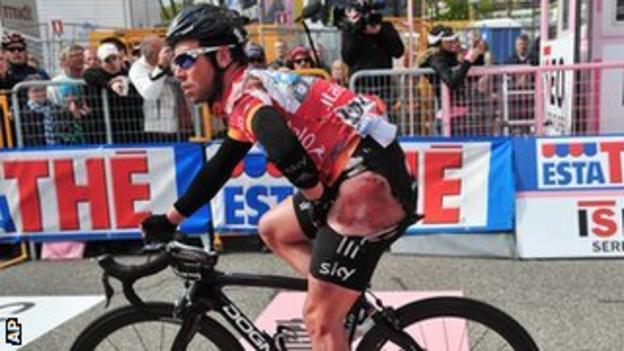 He said: "I'm fine, but it was a bad cut. I was in a state of shock when I got in the ambulance, I'm glad it's a rest day tomorrow. It's a shame when things like this happen."
Race rules state that if a rider goes down in a group crash in the final three kilometres, he is given the same time as the group he was riding with.
Cavendish, the world road race champion, had looked in prime position to win the sprint finish but Ferrari veered wildly to his right and straight into the front wheel of the Manxman, whose bike went from under him and he slid along the ground on his side.
Several riders missed running over Cavendish by inches while another bunny-hopped his bike over the stricken cyclist.
Ahead, Australia's Matthew Goss claimed a debut Grand Tour stage win for Green Edge, in front of Argentina's Juan Jose Haedo and American Tyler Farrar.
It was a dramatic end to the third and final stage in Denmark before the riders head to Italy for Wednesday's team time trial in Verona.
Before setting off, tributes were paid to Belgian Wouter Weylandt, who died after a crash on stage three last year.