Mark Cavendish backs Yorkshire's Tour de France bid
Last updated on .From the section Cycling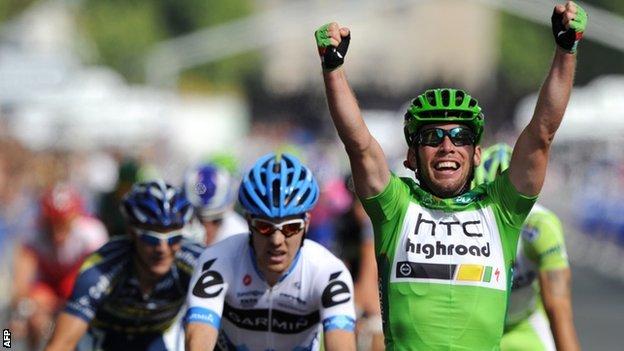 Mark Cavendish and Ben Swift are backing Yorkshire's bid to bring the Tour de France to the county in 2016.
Team Sky team-mate Ben Swift said he would love to see a stage of the race run in his home county.
"It would be amazing to be part of the peloton through the Dales," he said.
The first two days of racing, the Grand Depart, are held in a new location outside France every two years.
Yorkshire is competing against Barcelona, Venice, Berlin and Scotland for the right to host the 2016 stages. Stages were last held in the UK in 2007 when London and Kent played host.
Cavendish, who has won 20 Tour de France stages, believes the county's natural beauty will prove attractive to the race's organisers.
"The county would provide a stunning backdrop to the Tour as well as a real test for the competitors," he said.
"I have fond memories of holidaying in Yorkshire, a lot of my family still live there and it would be fantastic if the world's greatest cycle race could come to Yorkshire."
Swift added: "It's special to say you've raced the Tour de France, I'm proud to be able to say I have. I would love to see the Tour come to my home county, and I hope [tourism agency] Welcome to Yorkshire can make it happen in 2016."
More than 185 countries around the world show the Tour de France every year on 92 different television channels with the last hour of every stage broadcast live across western Europe.
Gary Verity, chief executive of Welcome to Yorkshire, wants the public to back the bid by signing a petition on their Back le Bid website.
"Some may see us as outsiders but we think Yorkshire has a lot to offer, not just our stunning scenery but the passion of our people and the expertise we have in hosting world class sporting events," he said.