Wales' Becky James not writing Olympics off despite setbacks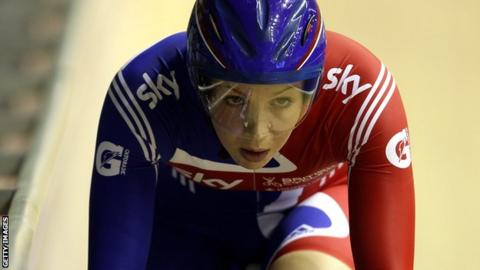 Becky James is still hopeful of competing at the Olympic Games in London this year despite enduring a frustrating few months.
James has been hampered by illness and injury and missed the Track Cycling World Cup meeting in London.
Having suffered an Achilles injury, the 20-year-old also had her appendix removed recently but says she hasn't given up on the Olympics.
"I want to be there so much," James told BBC Wales' The Backpage programme.
"It's going to be the toughest time of my life really but I'm going to put my head down.
"To think the Olympics is six months away, a lot can change in those six months.
"I've got so much support from my family and friends. So fingers crosses it's all onwards and upwards from here."
James's troubles started when she was struck down by food poisoning following the World Cup meeting in Kazakhstan last November.
An Achilles injury disrupted her preparations and she had to have her appendix removed following her return from the World Cup meeting in Beijing in January.
"Unfortunately I've had a really bad start to the year," said James.
"I went to Beijing not [in] great form after being injured all through December with an Achilles injury.
"As I got back from Beijing I developed a really bad stomach which I found later on was appendicitis. A few days later I had my appendix out.
"So I've just been back at home recovering.
"It's been really difficult with major competitions with [the] London World Cup and then the World Championships in Melbourne.
"It's been hard just to be sitting around and resting but the coaches tell me your health's more important than anything."
"I'm going back to Manchester next week and just get back into a routine and starting all over again."