Track World Cup: Chris Boardman's verdict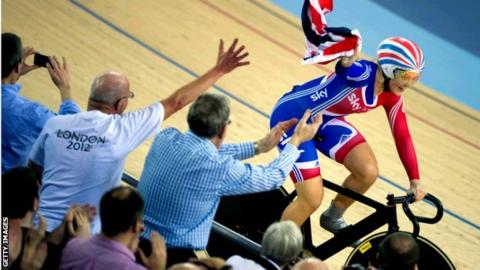 "It's only a World Cup." It isn't. The last four days were a miniature World Championships and a miniature Olympic Games.
Inside the Olympic Velodrome, in front of a packed house and with all the people who matter in this sport in attendance, everybody knew this was a replica of London 2012 and the biggest World Cup ever staged.
The riders and nations got to try everything out - the emotions, the pressure. That is why you saw the winners celebrating so much more than they normally would at this level.
However, it is also only February. There is a while before April's World Championships in Melbourne, and just under six months until the Olympics back inside this arena. That has to be taken into account and, in many respects, we cannot use the events of the weekend just gone to predict what will happen in the summer.
But regardless, we learned here that the rest of the world has improved by a considerable degree.
The Great Britain team are where they need to be and, more or less, where they were before the Beijing Games relative to their own performances four years ago.
The change has come in the strength, and depth, offered by other nations across all competitions. Every win here was incredibly hard-fought. Look at Jason Kenny, taken out by two 10.2-second rides from Germany's Maximilian Levy. They are all going that fast now.
Sir Chris Hoy had to work so hard to get the medals he won. If you just look at the results you see a series of victories but, when you see what went into those results, you realise they were no easy feat.
Hoy is a shrewd character and he has always known that this is the year. He took a good kicking in 2011 and that was all he needed to get totally focused on 2012.
You can rely on him to perform when it is necessary and, for the last few years, it has not been necessary. He could afford to back off for a couple of years because, ultimately, it is always about the Olympic Games as a track rider.
Now was the time to start doing it and yes, he has once again put himself up to be shot at by those much-improved rivals, but now was the time to be doing that.
Kenny's exit at the hands of Levy in the men's sprint, versus up against the same rider, will of course have some sort of bearing on selection for the Olympics later this year.
Rule changes since Beijing 2008 mean only one of those two can be picked for Britain and, while in sprinting terms there is very little between them, one of them deals with the pressure and the difficult situations, better. Only by a small amount, but it is critical.
It would now be very difficult to say to Hoy - also in the running for the keirin and team sprint, as in Beijing - that because the competition is so fierce, nobody will ride three events for Great Britain this summer.
You could not do that to him. I do not think anybody could take that opportunity to defend those three titles away, and nor do I envy the management decisions to be made by the likes of performance director Dave Brailsford on that front.
Not everything went Britain's way, as shown by the classy Australian ride to win the men's team pursuit title. But I actually enjoyed seeing the British pursuiters push themselves so hard that they ended up losing a man at the end.
Their endurance coach, Dan Hunt, told us that it is a nice feeling to be chasing rather than chased once more, and the team need to get used to being there again.
The women's team sprint was similarly heartening to watch because a was slightly unexpected. More to the point, that result is better than they expected of themselves.
For younger riders like Varnish, who is only 21, to get that confidence boost - to know that these things are possible - is vital. She now knows that it is worth investing all of her time, for the next six months, in doing one lap of the track ahead of Pendleton.
Pendleton herself goes away with mixed emotions as, while that gold-medal performance was great and she's not a million miles away in those other events, she needs to find out how to close the gap which left her out of the medals in the keirin and individual sprint. She will keep fighting.
Finally, while this British squad has been a team of stars since the Beijing Olympics, a new one may have been formed this weekend in the women's team pursuit and omnium.
Laura Trott rode her heart out, in particular captivating the crowd in Saturday's omnium elimination race, where time and again she seemed on the verge of bowing out before finding the strength to first stay in the race, then win it ahead of Canada's world champion Tara Whitten.
This GB side is a hard one to break into, if not the hardest in the world, but over the past 12 months 19-year-old Trott has proved her place within it is very much earned.