Mark Cavendish says 'redeemed' David Millar deserves Olympic chance
By Matt Slater
Sports news reporter
Last updated on .From the section Cycling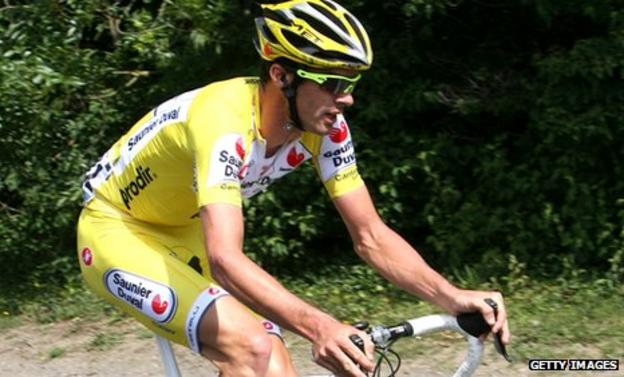 Mark Cavendish believes David Millar has paid the price for his doping past and deserves a second chance at London 2012.
The veteran Scot, however, is still subject to the British Olympic Association's lifetime ban.
"He's redeemed himself. I would love him to be [at London 2012]," BBC Sports Personality of the Year Cavendish said.
"Dave cheated but he has realised what he did and learned a lot. He's a massive anti-doping campaigner.
"He's a good friend of mine and an incredible bike rider - incredible."
The BOA's hardline stance has been on the books since 1992 but Britain's national Olympic committee is now the only one in the world to maintain a lifetime ban for anybody who has served a drugs suspension of six months or longer.
The International Olympic Committee (IOC) was recently forced to drop a similar sanction when the Court of Arbitration for Sport (Cas) from the World Anti-Doping Agency (Wada) because the IOC penalty did not comply with Wada's code - a set of harmonised rules for sport that stipulates maximum bans of two years for first-time offenders.
Wada then challenged the BOA's by-law and Cas is expected to make a ruling on its validity in April, with many legal experts predicting that Wada will win.
Millar, who turns 35 next week, captained the British team that helped Cavendish win the men's world road race title in Copenhagen in September and claimed a silver medal for the time trial at the previous world championships in Melbourne in 2010.
Performances like these have helped complete a remarkable comeback for a rider whose career looked finished when French police found empty vials of the blood-boosting drug EPO in his apartment in Biarritz seven and a half years ago.
Millar has since become an outspoken advocate for clean sport and sits on Wada's athletes panel. He is also the only British rider to have worn all three of the Tour de France's main jerseys (yellow, green and polka dot) and the only Briton to have led all three of cycling's grand tours (France, Italy and Spain).
Oarsman Martin Cross won Olympic gold alongside Steve Redgrave in Los Angeles in 1984 and was part of the athletes commission which helped create the BOA byelaw 20 years ago.
He is adamant Millar should not be allowed to compete in London.
"If you were giving out things for redemption in sport Millar has done more than anyone else," he told BBC Radio 5 live. "He's done far more than me in terms of campaigning against doping.
"But all that aside­ - and the idea of forgiveness for something you have done is important - that does not mean Millar should be allowed to compete in the Olympics because we have to balance that out against all the incredible injustice; all the wrong that has been done by cyclists that Millar himself admits."
Gail Emms, who won badminton silver in Sydney, also believes there should be no place at the Olympics for Millar.
She said: "You cannot have cheating. For me, you need to keep that consequence - if you take a drug as an athlete you will not represent your country in an Olympic games."
Cavendish is keen to harness Millar's experience and leadership in the Olympic road race on 28 July, a week after the Tour de France finishes in Paris.
Cavendish had seven team-mates to help him in Copenhagen - Britain's first world road race victory for 46 years - but countries are limited to just five riders each at an Olympics, making it that much harder to engineer the type of finish - a bunch sprint - that the Isle of Man sensation currently dominates.
"If we want to win the Olympic road race, we need Dave," said Cavendish, who became only the second British rider to actually win a leading jersey at the Tour de France when he claimed the sprinters' prize in July.
"If you want to win and make history, you need a group of people around you.
"As with Copenhagen, there couldn't have been anybody else I would rather have been with than those seven guys and everybody else that worked so hard to get us there.
"It's the same with London. There are certain people I would want to share that with and Dave's one of them."