Scottish cyclist Graeme Obree targets new world record
Last updated on .From the section Cycling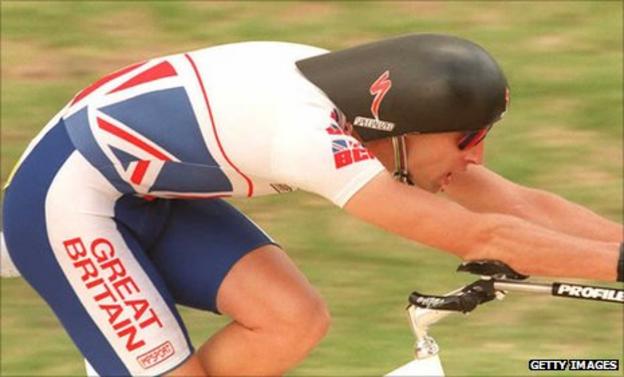 Scots cyclist Graeme Obree has set his sights on a new world record, aiming to break the human-powered vehicle land speed time by a considerable margin.
Obree, 46, famed for his unusual bike designs and unorthodox cycling positions, is hoping to break the current 83mph record on a new vehicle.
"I don't want to curse it, but I would like to do 100mph," said Obree.
"If everything was perfect, with the power output and aerodynamic drag then 100mph might be possible."
Obree was nicknamed 'The Flying Scotsman' after he broke the hour time-trial record on a bicycle he built himself from washing machine parts, but retired from top-level cycling in 2001.
He was depicted by actor Jonny Lee Miller in a film in 2006 and was inducted into the Scottish Sports Hall of Fame last March, but now he wants to take cycling to its ultimate limit.
"I am setting out to attack the world land speed record, which is on a bicycle, but there's no rules," Obree told BBC Scotland.
"It's a branch of the sport called human powered vehicles. The record is set as under the same conditions as cars - it's on a flat road, not wind assisted, and with no other vehicle assistance.
"It'll be on a straight, flat road, probably in Colorado at Battle Mountain."
The trial will see Obree gather speed in a rocket-like transporter that contains a flat bike and a protective membrane which he has been working on for 15 years.
The Scot believes his own determination and refusal to accept limitations has inspired him to seek goals that seem impossible or unattainable.
"I'm building the bike myself with some help," added Obree. "The whole thing is no more than three feet off the ground - it's basically a human torpedo - you pedal it like fury.
"I've kept my fitness over the past few years and I've kept it going which means I have good shout of getting the power up.
"I've been thinking about this for 15 years - but when it comes to the skin, it's not my area of expertise.
"The skin is a vitally important combination of carbon and Kevlar in case you fall off at 100mph. If that happens, then you're going to lose some of your own skin, which is not worth thinking about.
"I'm always thinking what the limits are - I take everything to a limit where it can be - and that's what sport is all about: taking everything to its possible limit."