Alberto Contador gives personal plea at drugs appeal hearing
Last updated on .From the section Cycling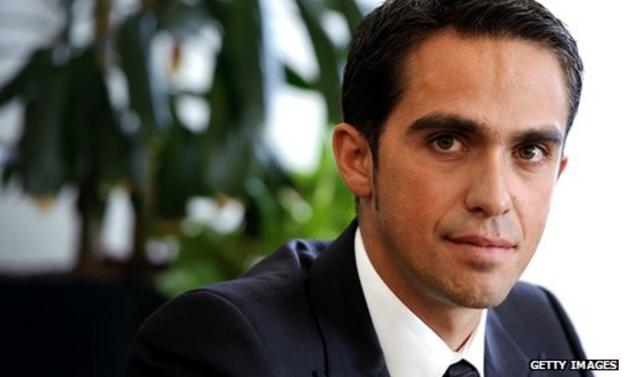 Alberto Contador will have to wait until the new year to discover if he is to be stripped of his 2010 Tour de France win after giving evidence at the end of his four-day doping hearing.
Contador, who could receive a two-year ban, gave testimony at the Court of Arbitration for Sport hearing.
The Spaniard tested positive for banned substance clenbuterol on the second rest day of last year's Tour.
But he has maintained that the failure resulted from eating contaminated meat.
The 28-year-old claims to have consumed the drug in contaminated beef, and in February the Royal Spanish Cycling Federation cleared him of a potential provisional one-year ban.
But World Anti-Doping Agency (Wada) regards clenbuterol - a fat-burning and muscle-building supplement - as a zero-tolerance drug, and, together with world cycling body UCI, appealed against the decision.
If found guilty, Contador can expect a two-year suspension from the sport and to be stripped of his 2010 Tour win and other subsequent victories.
After a final day of testimony in Lausanne, Switzerland, Cas secretary general Matthieu Reeb confirmed that the rider addressed the appeals panel "for about 15 minutes".
"He took the case very seriously. He was present for all the case and attended all the discussions", Reeb said.
As he left the court, Contador made no comment.
The result of the Wada and UCI appeal should be revealed in January 2012, Reeb confirmed.