Chris Froome and Bradley Wiggins make Vuelta history
Last updated on .From the section Cycling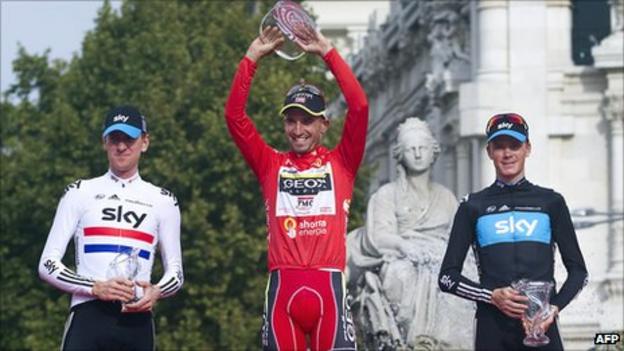 Chris Froome and Bradley Wiggins made history as the first Brits to stand on a grand tour podium, finishing second and third in the Vuelta a Espana.
Froome was second overall as Spain's Juan Jose Cobo was crowned champion after the final stage to Madrid.
Cobo held a 13-second lead over Froome, 26, and defended it on the final day, with Wiggins finishing third overall.
Robert Millar was the last Briton to have earned a grand tour podium spot, at the 1987 Giro d'Italia.
Scotsman Millar also finished second twice at the Vuelta, in 1985 and '86.
No Brit has ever finished on the podium at the third of the grand tours, the Tour de France, where Millar (in 1984) and Wiggins (in 2009)have both finished fourth overall.
Team Sky rider Froome's previous best in a major race was 36th in the 2009.
He was was entered in the race to assist triple Olympic champion Wiggins, who had his eye on a podium spot in his first race back following a crash that saw him break his collarbone during the Tour de France in July.
"The last three weeks have been an unforgettable experience. It's actually quite overwhelming," said Froome.
"If three weeks ago you had told me that I would be standing on the podium in Madrid I wouldn't have believed you. This has really been a life-changing experience.
"I've moved up a lot. I think I've learnt a lot riding alongside Bradley, like learning how to conserve my energy instead of going off on crazy attacks and just being more consistent and being there on the big climbs."
Froome, however, remains unsure where his long-term future lies.
"The team has looked after me and we're going to have to see going forward," he added. "I haven't signed a contract yet, but that's still to be decided in the next week or so, I think."
Kenyan-born Froome had become Cobo's main challenger in the last few days of the three-week race after his Sky team-mate Wiggins had dropped steadily out of contention.
Wiggins, 31, led Cobo by 55 seconds at the start of the 15th stage, but he struggled on the notoriously tough climb to the summit finish at Angliru to hand the Spaniard the advantage with six stages left.
"I think that when you sit back and look at the season and see what has happened, I think you reflect on it with a bit of happiness, but when you finish third, you haven't won and we live for winning unfortunately," said Wiggins
"I'm learning from the disappointments, which is the main thing. Last year was a huge disappointment but we learnt from it and came back stronger."
On the final 59-mile (95.6km) stage, Slovakian Peter Sagan won a sprint to the line ahead of Italian pair Daniele Bennati and Alessandro Petacchi to claim his third Vuelta stage win.
Final stage result:
1. Peter Sagan (Slovakia, Liquigas-Cannondale) 2:20:59secs
2. Daniele Bennati (Italy, Leopard Trek) same time
3. Alessandro Petacchi (Italy, Lampre) same time
12. Bradley Wiggins (Britain, Team Sky) same time
19. Chris Froome (Britain, Team Sky) same time
Overall standings:
1. Juan Jose Cobo (Spain, Geox) 84:59:31secs
2. Chris Froome (Britain, Team Sky) +13secs
3. Bradley Wiggins (Britain, Team Sky) +1:39secs