Cycling chief Pat McQuaid proposes doping changes
By Tim Franks
BBC sports news correspondent
Last updated on .From the section Cycling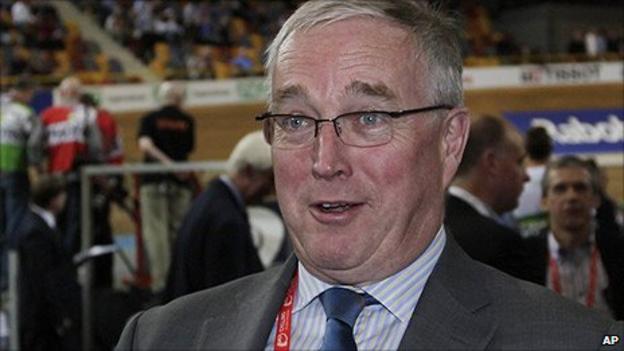 World cycling chief Pat McQuaid is proposing to ban any rider who has been found guilty of doping from becoming a team official or manager.
The boss of cycling's governing body (UCI) says the likes of Bjarne Riis, who admitted doping after he won the Tour in 1996, should not manage a team.
Riis is in charge of three-time Tour de France winner Alberto Contador's team.
"I'm not happy there are team managers who have been doping as athletes themselves," McQuaid told BBC Sport.
"I'm not happy they understand the responsibility they have to the sport."
In September, Contador tested positive for a banned substance and was later banned for a year by the UCI.
But in February the Spaniard was cleared by the Royal Spanish Cycling Federation (RFEC).
However, the UCI and the World Anti-Doping Agency (Wada) have appealed to the Court of Arbitration for Sport (Cas) and that hearing is expected to start in June.
McQuaid has previously spoken of his belief that Contador should be fully investigated.
McQuaid will bring his proposal before the management committee of the UCI in June.
"Any cyclist who is involved in a doping infraction in their career cannot come back into management of a team in the future," he suggests.
"We do suffer. And all sports suffer, from the fact that athletes tend to become officials afterwards. There's a constant circle, and it's very hard to break."