Mark Cavendish dons Giro d'Italia leader's pink jersey
Last updated on .From the section Cycling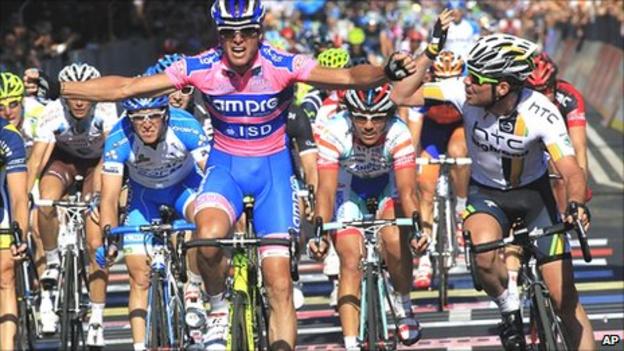 Britain's Mark Cavendish took the leader's pink jersey at the Giro d'Italia after finishing second in the second stage from Alba to Parma.
Sebastian Lang had a 19-minute lead at 82km but was caught 26km from the line.
Cavendish now holds a 12-second overall advantage over team-mates Kanstantsin Sivtsov and Craig Lewis.
The Isle of Man rider, whose HTC-Highroad outfit won Saturday's opening stage, a team time trial, almost claimed victory in the sprint, seeking to overtake Petacchi on the right before making another attempt on the left.
Cavendish was angered by Petacchi appearing to block him in the chaotic closing stages.
The 37-year-old Italian's 22nd Giro success was confirmed by the jury after viewing video footage.
On his Twitter page after the race Cavendish retracted his criticism of Petacci and said: "I'm sorry for taking my frustration out on him. What happened today was sprinting and that's why I love it.
"It's about tactics as well as power. Let's bring back old school sprinting! Congrats to a great champion today."
Petacchi said he had never impeded his rival.
"To be honest, the only thing that I noticed is that when I saw him coming up before the sprint, I let him pass along the barriers," said the Italian.
"I could have closed the door but I didn't."
Monday's third stage is a 173km ride between Reggio Emilia and Rapallo.