Liam Phillips prepared to drop BMX for track cycling
By Ollie Williams
BBC Olympic sports reporter
Last updated on .From the section Cycling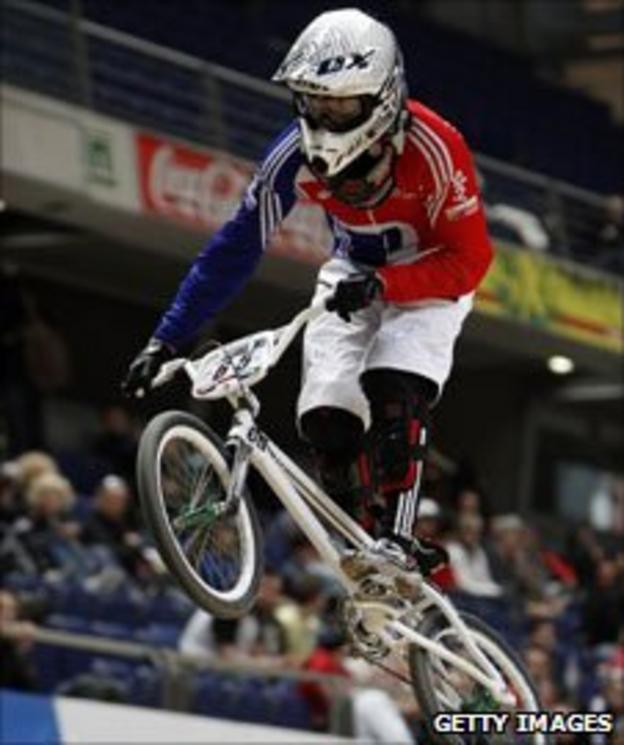 Liam Phillips is prepared to sacrifice BMX for track cycling if he gets the green light to race in the team sprint alongside Sir Chris Hoy at London 2012.
The Somerset rider joined the track squad last week and will remain at the velodrome full-time for eight months.
"I was sick to death of BMX injuries and knew if there was another route to the Olympics, I'd be stupid not to take it," Phillips, 22, told BBC Sport.
"I have eight months to show I'm at a level where I can make the team."
Britain's team sprinters - Hoy, Jason Kenny and Matthew Crampton - finished in third place at this year's track cycling World Championships in March, with France taking gold and Germany silver.
The British are widely believed to be missing a high-calibre "man one", the opening rider who must set a fast pace from a standing start, following Jamie Staff's retirement in 2010.
Staff, a former BMX world champion, ended his career having helped Hoy and Kenny to gold at the Beijing Olympics in 2008.
Jason Queally, 40, a double Olympic medallist in Sydney, has been trialling with the squad with a view to making a comeback, having originally planned to take part in the Paralympics as a tandem pilot.
Now Phillips, who competed in the 2008 Olympic BMX event but has not achieved Staff's level of success in the sport, is also being given a shot.
BMX riders are considered attractive prospects in the team sprint because both disciplines demand sharp acceleration from a standing start.
And Phillips, who has suffered a string of injuries on the BMX circuit, is looking forward to tackling a cycling discipline he considers far safer.
"I've raced BMX for 17 years. It's all I've known ever since secondary school, but there are only so many injuries you can take," he said.
"I haven't completed a full season in the last four years. Every year I've had to miss races due to injury. Broken wrists, collarbones, a couple of shoulder surgeries, it's been endless."
Phillips says the catalyst for his switch was a crash in his first major race of the current BMX season, in America, which damaged both his wrist and elbow.
"When I got home I had surgery on both and it became apparent in the last few weeks, coming out of that recovery process, how serious that injury was," he explained.
"I'm lucky to be able to continue riding. Knowing that now has given me even more reason to go to the track.
"I can only see this being a positive opportunity. It's a chance to train full-time around some of the best cycling athletes in the world, and I can still compete at a good level without the same injury risk."
Phillips admits the position of man one to Hoy is "daunting" and has agreed an eight-month trial period with British Cycling.
His aim is to reach an opening lap time in the region of 17.3 seconds - the time set by French man one Gregory Bauge at this year's World Championships.
If he proves up to the task, he is prepared to leave BMX behind for the track.
"We've got 15 months now and it's almost split in half: I have eight months to get to that crossroads and then determine which road I go down," said Phillips.
"If the track doesn't work out I've got seven months to get back into shape for the BMX [where Britain has a guaranteed place as the host nation, meaning Phillips does not need to commit to qualification races].
"But hopefully I'll get to a level where I can make the track team, then get selected for the 2012 World Championships and the Olympics."
In announcing Phillips' switch last week, Britain's head track cycling coach Shane Sutton said: "Like Jamie Staff before him, Liam has proved he is powerful enough to bring the rest of the team up to pace within the first lap.
"With that in mind it is certainly worth bringing him into the squad to take a closer look, whilst keeping the door open for Liam to continue his BMX career."
Shanaze Reade, the women's BMX world champion, recently attempted a similar move into track cycling's team sprint alongside Victoria Pendleton.
However, Reade had mixed fortunes on the track and was overlooked for the World Championships in favour of Jess Varnish.
"It's like a professional footballer trying to break into the Barcelona team - it's probably the hardest thing to do in any sport," said Phillips.
"We learnt from Shanaze that she committed to the track programme for 10 or 12 weeks, and realistically half of that time was taken up getting used to the bike, the training regime and everything else.
"That was one of the main reasons I've committed for so long. I could easily have said I'd do 12 weeks but I don't feel like I'll get the best out of myself in a 12-week block.
"But I know I can make the difference. I've asked that question to myself on numerous occasions and the opportunity wouldn't have been made available if British Cycling didn't feel I had something to give to the team."