Ben Stokes: England all-rounder to miss India Test series and take 'indefinite break' from all cricket
Last updated on .From the section Cricket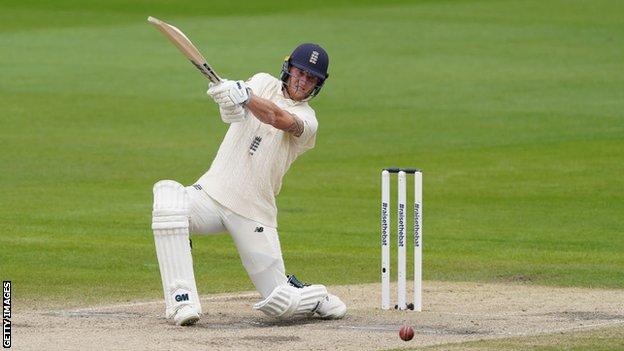 Ben Stokes "will take an indefinite break from all cricket with immediate effect" and has withdrawn from England's squad for the five-Test series against India.
The all-rounder will prioritise his mental wellbeing and rest his left index finger which has not fully healed, the England and Wales Cricket Board (ECB) said in a statement.
Stokes, 30, will be replaced in the squad by Somerset's Craig Overton.
The Test series begins on Wednesday.
"Ben has shown tremendous courage to open up about his feelings and wellbeing," Ashley Giles, managing director of England men's cricket, added.
"Our primary focus has always been and will continue to be the mental health and welfare of all of our people.
"The demands on our athletes to prepare and play elite sport are relentless in a typical environment, but the ongoing pandemic has acutely compounded this.
"Spending significant amounts of time away from family, with minimal freedoms, is extremely challenging. The cumulative effect of operating almost continuously in these environments over the last 16 months has had a major impact on everyone's wellbeing.
"Ben will be given as long as he needs, and we look forward to seeing him playing cricket for England in the future."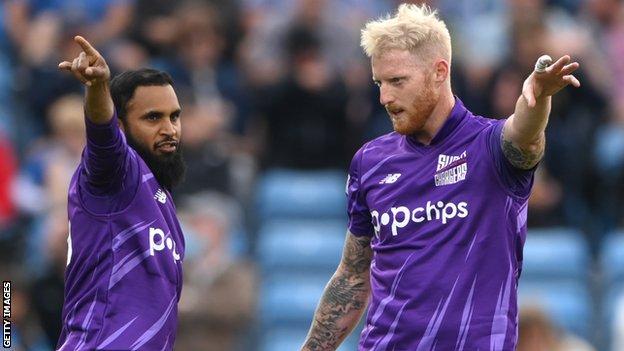 The decision comes at the start of a busy period for England. Five Tests against India are quickly followed by the Twenty20 World Cup in October and November and this winter's Ashes series against Australia, which begins in December.
Stokes took a period of compassionate leave between August and October last year, missing two Tests, to be with his father Ged, who died in December last year.
He was rested for two Tests in Sri Lanka in January and, after returning for England's series defeat in India, missed the home Test series against New Zealand in June having broken his finger playing in the Indian Premier League
Stokes returned to England duty earlier this month to captain the 50-over side against Pakistan after a Covid outbreak forced England to name an entirely new squad.
Having led England to a series win against Pakistan, Stokes most recently captained Northern Superchargers in the opening two games of The Hundred.
Stokes joins Biles and Osaka in conversation around mental health in elite sport
Stokes' decision comes in a week where two other global stars have spoken out about their mental health on the biggest sporting stage at the Tokyo Olympics.
US gymnast Simone Biles pulled out of the team final on Tuesday to "focus on her mental health", saying: "I just think mental health is more prevalent in sports right now. We have to protect our minds and our bodies and not just go out and do what the world wants us to do."
And Japan's tennis superstar Naomi Osaka said she felt "a lot of pressure" after her shock exit from her home Games, saying it was "a bit much".
It was Osaka's first tournament after withdrawing from the French Open in June, when she revealed she had "suffered long bouts of depression" since winning her first Grand Slam title in 2018.
The ECB has requested that privacy is given to Stokes and his family during his absence from the game.
'All the lads are behind Ben'
England spinner Jack Leach, speaking to BBC Sport
All the lads are behind Ben and supporting him where we can. He has shown courage and bravery to prioritise his mental health. He is a focal part of our team and we will miss him.
His priority is to take some time out from the game to get better. We can't wait to welcome him back in the near future and see him winning games of cricket for England.
'Cricket has always been a sport where you spend a lot of time away from families'
Michael Carberry, ex-England batsman and former team-mate of Ben Stokes, on BBC Radio 5 Live
I'm still trying to process it. Very sad. Big fan of Stokes, have been since I saw him play as a young man in county cricket. Doesn't matter what's happening. Just a case of reaching out to him as a former colleague to wish him well and a speedy recovery. Hope to see him back doing what he does best.
There does seem to be an uptake of mental health issues in high-profile sportspeople. Every situation is different. Maybe it's something governing bodies have to look into.
We've been dealing with Covid for a year or so and maybe there's a need for more investment into physiologists with day-to-day bubbles. Must be so hard to compete and be the best they can be in those conditions, seeing time away from family tick by in hotel rooms.
Cricket has always notoriously been a sport where you spend a lot of time away from families - a huge sacrifice to be the best we can be. Being locked away in a hotel room is very different though. It'll undoubtedly have an impact on people's mental health.
'Groundbreaking but also really positive'
Test Match Special commentator and Daily Telegraph cricket writer Isabelle Westbury on BBC Radio 5 Live
It's quite groundbreaking really. To think of somebody of the profile and the achievement of Ben Stokes say something quite so candid, when we associate him, I guess, with feats of great sporting prowess but also being a tough guy.
For somebody like that to be able to say 'listen, I'm struggling' is momentous, but I think it's really positive as well.
I think it's groundbreaking for a man - and someone who we've got a very specific idea of what they're like in our heads to say this. It will hopefully pave the way for others to say the same.