Glamorgan return to nets for delayed 2020 start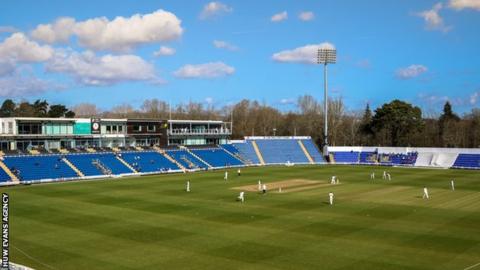 Glamorgan's cricketers have returned to part-time training after a break of more than three months amid the coronavirus pandemic.
The move came after the announcement of county cricket starting on 1 August.
Players carried out temperature checks before starting practice, and only use individual equipment.
"It's strange, it feels like we've ended a season and come back for pre-season," said all-rounder David Lloyd.
"But it's nice to be back hitting balls and being outside."
The Welsh side's players are undergoing fitness checks and having one-to-one net sessions with coaches at their Sophia Gardens headquarters.
"It's going to take a time to get used to but it's easily done and the main thing is to get back playing," vice-captain Lloyd told BBC Sport Wales.
"I thought it would (feel weird) and I thought my net would have been a lot worse, but it actually went well (batting) though the first ball I bowled went way down leg-side."
Lloyd will hand the one-day captaincy back to club skipper Chris Cooke, who was originally due to be on Hundred franchise duty when the county 50-overs competition was scheduled before the upheaval.
Players will progress to small group sessions before full squad work will begin during July. There will be daily medical checks for the squad and all staff at Sophia Gardens.
Glamorgan's playing and coaching staff have been paid by the government's furlough scheme since late March, in common with most English counties during the Covid-19 pandemic.
The counties will decide on 7 July whether to play four-day or 50-overs cricket for the bulk of August, before they switch to the T20 Blast.
"Either would be okay, but with everything going on, maybe 50 overs games would be slightly easier," said Lloyd.
"Bowlers going into four days straightaway could be quite tough on them with picking up injuries, so perhaps 50 overs would be ideal in getting everyone back into the swing of things.
"It'll be interesting to see the standard after such a long lay-off, but for me it's quite refreshing to come back, trying to really enjoy the cricket and our time together as a team."
Amateur game hopes
Meanwhile Cricket Wales chief executive Leshia Hawkins is hopeful the next Welsh Government review of public health restrictions will open the way for club cricket to enjoy a restricted summer, even if leagues will not be played in their usual format.
"For the next review, the most important thing is to release non-contact team sports," she told BBC Wales Today.
"We're in a unique position that we can play in a socially-distanced manner and only minor tweaks would allow us to play what to the untrained eye look like a normal cricket match.
"It's now about social measures rather than sports measures, with more than two households being allowed to mix outdoors," said Hawkins.
"Thankfully we don't look as though we're going to lose any clubs, we've been pro-active in supporting clubs financially. With the Glamorgan guys back training and the England team playing their intra-squad game, kids will start to see cricket again but it's super-important to be playing."