Coronavirus: ECB and county bosses to discuss rescheduling cricket season
Last updated on .From the section Counties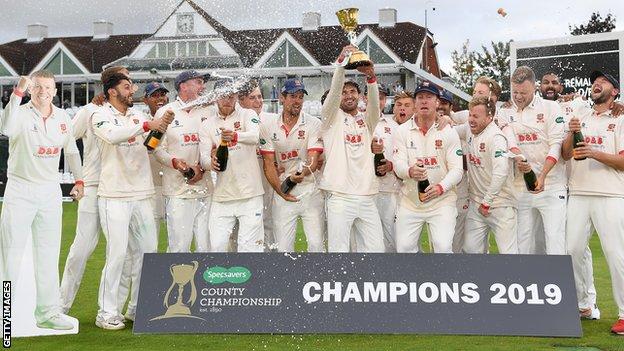 The England and Wales Cricket Board will discuss the possible rescheduling of the domestic season in response to the coronavirus outbreak on Thursday.
Initial talks between counties and the ECB will take place on Tuesday in a telephone conference.
The ECB said last week all options were being looked at including postponements and playing games behind closed doors.
Hampshire chairman Rod Bransgrove said one contingency may be "playing no cricket at all" this season.
The 2020 County Championship is due to begin on 12 April.
Prime Minister Boris Johnson advised on Monday against mass gatherings in the UK amid the coronavirus outbreak - effectively cancelling all remaining sporting events.
Any proposals from the meeting on Thursday would need to be escalated to the ECB board, so no announcement of any concrete proposals is expected until the end of the week at the earliest.
The season is scheduled to run until 25 September but a delayed finish, taking the season into October, is also on the agenda.
Numerous counties have cancelled or cut short pre-season trips in the past few days, including Durham, Sussex, Worcestershire, Surrey and Somerset.
Another of those was Hampshire, who had been due to visit La Manga in Spain.
"It's not fair for me to speculate as an individual, but I think most people acknowledge it's unlikely the season will start in April," chairman Rod Bransgrove told BBC Radio Solent.
"We're in completely uncharted water with an extraordinary series of circumstances that have led us to this position we're in now, confronted with a pandemic the likes we've never seen.
"It's likely to get a lot worse before it will get better and I think our conclusion is we need to have plans for various different contingencies.
"They include no cricket at all during the season, but hopefully that won't be the one that prevails.
"But paramount always will be the health and safety of our staff, members and supporters."
Yorkshire director of cricket Martyn Moxon said his team will have to do the best it can to respond to the fast-changing situation.
"In an ideal world, we want to play the season as it stands," he told BBC West Yorkshire Sport Daily.
"But that may be taken out of our's and the ECB's hands, with how the government and Health England are looking to manage the spread of the virus. Clearly we'll have to be guided by them.
"If there is a disruption in the season, it will have financial implications, there's no doubt about that, but this is part of the discussions that are ongoing at the moment."