Coronavirus: MCC v Essex - Champion County fixture in Sri Lanka called off
Last updated on .From the section Counties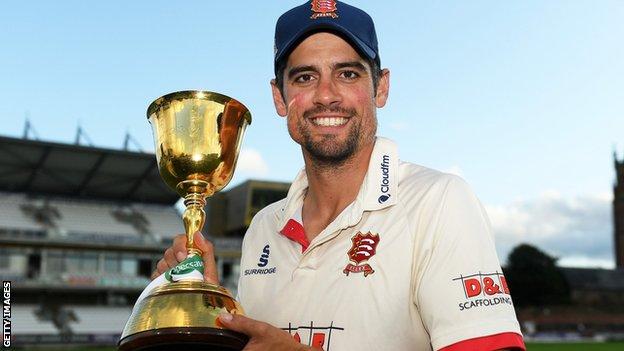 The Champion County fixture between the MCC and Essex, due to take place in Sri Lanka, has been cancelled because of the coronavirus pandemic.
The four-day game starting on 24 March was set to take place at Galle International Stadium.
England's Test series in Sri Lanka has also been postponed.
Kent, Hampshire and Warwickshire have all curtailed pre-season trips abroad, while Yorkshire will return early from their tour in India.
Yorkshire were due to remain in Mumbai on their pre-season tour until Tuesday, 24 March, but will now return to the UK at the earliest possible opportunity..
Hampshire's and Warwickshire's squads were due to visit La Manga for training camps, but both clubs have opted for their players and staff who have already travelled to return home early from Spain.
The Bears' bowlers have been in La Manga for a week and were joined by the rest of the squad on Tuesday but the tour party are now due to return to Birmingham on Saturday.
Meanwhile, Hampshire's bowlers and coaching staff at the resort will return to the UK on Friday evening, while the remaining squad members who were set to travel out to Spain will no longer do so.
Kent had planned to tour South Africa but all of the club's personnel will return to the UK this weekend.
"We have been closely monitoring the coronavirus situation in Spain," said Warwickshire sport director Paul Farbrace.
"Whilst the Murcia region of Spain is currently one of the least-affected parts of the country, the health and wellbeing of our playing squad and management is our utmost priority.
"We will continue our pre-season preparations at Edgbaston next week ahead of the first friendly versus Leicestershire, which starts on Thursday 26 March."
The England and Wales Cricket Board has said it "will continue to plan for the expectation that the season proceeds as normal, but in parallel prepare for a range of scenarios".
Their statement added: "These could include the possibility of playing matches behind closed doors, or potentially postponing or cancelling elements of the season."
Essex to remain in Abu Dhabi
Essex have confirmed that despite the cancellation, their ongoing pre-season tour to Abu Dhabi will continue as scheduled until 21 March.
Former Sri Lanka batsman Kumar Sangakkara, now MCC president, had been due to captain the MCC side in the four-day fixture.
A MCC world cricket committee meeting scheduled to be held in Colombo on 28 and 29 March has also been called off.
"The health and safety of players, officials and supporters is our priority," an MCC statement read.
"With the danger of infection beginning to increase in the UK, as well as the risk of quarantine for UK arrivals abroad and the potential of spreading the virus further, the decision has been taken for the match and the committee meeting to be cancelled."