County ins & outs - signings, departures and rumours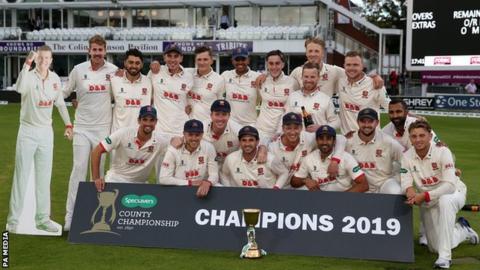 As the new decade dawns, stay up to date with the latest player signings, moves and speculation from all the counties as we await the 2020 campaign.
Counties can field one overseas player in County Championship and One-Day Cup matches, and two in T20 Blast games.
Kolpak contracts are signed by foreign players, using a European Court ruling to avoid counting against the quota of one overseas player per club. Following the UK's exit from the European Union, Kolpak registrations will be terminated at the end of the 2020 season, but some Kolpak players may remain in county cricket as overseas players.
Players who moved counties or retired during the 2019 season are included on the 2019 list. Have we missed anyone? Please let us know.
Visit our draft page for the initial player allocation for The Hundred.
DERBYSHIRE
Other news: Having hung up his boots, Smit has been appointed as Derbyshire's head of talent pathway. Wood, who was released in 2017, has rejoined to play in the One-Day Cup.
DURHAM
Other news: Stuart Poynter has relinquished his international career with Ireland to remain at Durham as a local player.
ESSEX
Other news: Tom Westley has replaced Ryan ten Doeschate as Championship and One-Day Cup captain.
GLAMORGAN
Other news: Championship captain Chris Cooke will replace Colin Ingram as T20 captain, with David Lloyd replacing Cooke as One-Day Cup skipper.
GLOUCESTERSHIRE
Other news: Klinger's retirement leaves the county needing a new T20 captain.
HAMPSHIRE
Other news: Batsman Rilee Rossouw will only play T20 cricket from this season.
KENT
Other news: Assistant coach Allan Donald left at the end of the 2019 season. Former player Simon Cook has become bowling coach, with ex-Sussex captain Michael Yardy reportedly set to take the role of batting coach.
LANCASHIRE
Possible signings: Captain Dane Vilas hopes Maxwell will return for another spell as overseas player.
LEICESTERSHIRE
Other news: Bowling coach Matt Mason left for a role at Western Australia and Perth Scorchers at the end of the 2019 season, while assistant first-team coach John Sadler has left for the same role at Northamptonshire.
MIDDLESEX
Other news: New signing Handscomb will be captain in the Championship and One-Day Cup, with Eoin Morgan taking the T20 role. At the end of the 2019 season, Ireland internationals must either re-register as overseas players or relinquish their international careers to remain in county cricket as local players. While Stirling is leaving, Tim Murtagh has committed to the club, ending his Ireland career.
NORTHAMPTONSHIRE
Other news: Assistant first-team coach and bowling lead Phil Rowe has retired. His bowling responsibilities will be taken up by Gloucestershire fast bowler Chris Liddle, who has retired from playing to take up the role, while John Sadler will become assistant first-team coach, leaving the same role at Leicestershire.
NOTTINGHAMSHIRE
Other news: Former ECB lead fast bowling coach Kevin Shine has joined Notts as an assistant coach.
SOMERSET
Other news: Trescothick has taken up the role of assistant coach following his retirement from playing.
SURREY
SUSSEX
Other news: James Kirtley has been appointed as full-time pace bowling coach after a spell as a consultant.
WARWICKSHIRE
Other news: Will Rhodes will replace Patel as captain of the Championship and One-Day Cup sides while overseas signing Green will take charge of the T20 Blast team.
WORCESTERSHIRE
Other news: Assistant coach Alan Richardson will lead the club in the One-Day Cup while head coach Alex Gidman is with The Hundred side Birmingham Phoenix. He will be assisted by Kadeer Ali, who has rejoined the Worcestershire as Second XI coach, having previously been a player with the club. Meanwhile chief executive Matt Rawnsley has stepped down.
YORKSHIRE
Possible signings: Before the Malan signing, director of cricket Martyn Moxon said he wanted to bring in "two domestic batsmen", and he is close to signing another overseas player to succeed Maharaj.
Other news: Steven Patterson has stepped down as limited-overs captain and retired from Twenty20 cricket. David Willey will lead the side in the T20 Blast, Patterson will continue to captain the club in the County Championship while a One-Day Cup skipper is yet to be appointed. Adil Rashid has signed a limited-overs contract.