Malcolm Nash: Former Glamorgan all-rounder dies aged 74
Last updated on .From the section Cricket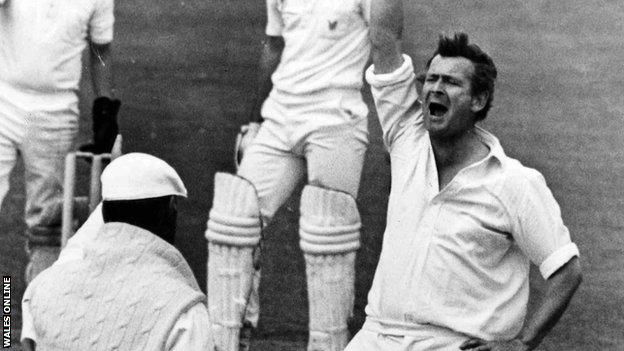 Former Glamorgan all-rounder Malcolm Nash has died at the age of 74.
Nash took 993 first-class wickets between 1966 and 1983 and was Glamorgan's leading wicket-taker when they won the County Championship in 1969.
Nash was also the bowler who was struck for six sixes in an over by Sir Garfield Sobers in Swansea in 1968.
The left-arm bowler helped Glamorgan defeat Australia in 1968 and reach a first one-day final in Lord's in 1977.
Nash captained the county before playing his final one-day match for Shropshire in 1985.
The six sixes hit by West Indies all-rounder Sobers in one over was an iconic moment in world sport because it was the first time the feat was achieved in first-class cricket.
Sobers was playing for Nottinghamshire against Glamorgan at St Helen's.
Touching tribute
The former West Indies captain paid tribute to his former opponent Nash.
"He was a good friend of mine and we always kept that friendship, he was a nice man," said Sobers.
"We played against each other and I was fortunate to hit six sixes against him but things never changed.
"As far as we were concerned we were always friends in spite of what happened on the cricket field.
"I don't see why it should change things if you score runs against somebody else.
"I remember him driving from Wales to London last year when I was there. He was writing his new book and he asked me to look at his book and sign it.
"I am very shocked and it is sad to hear."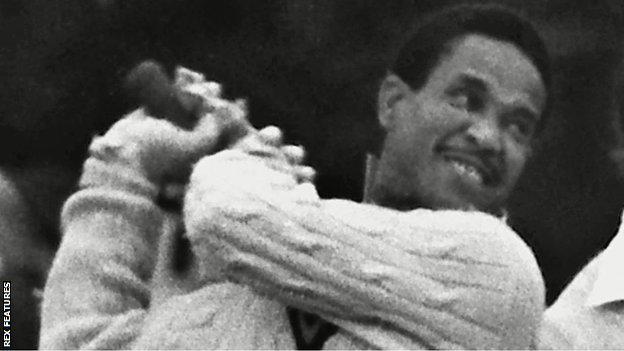 Sobers recalled how Nash kept his sense of humour despite being hit for six sixes.
"When we were asked to go up to be interviewed afterwards I looked back over my shoulder and saw him smiling," said Sobers.
"I said 'Mally, what are you smiling at?'
"And he said 'I want you to know you could not have achieved this without me!"
Glamorgan chief executive Hugh Morris said Nash was an integral part of Glamorgan.
"Malcolm was a true Glamorgan legend whose exploits have gone down in club folklore," said Morris.
"His name is connected with that of Garry Sobers and St Helen's but he was a fantastic cricketer who was an integral part of the club's history and the side that lifted the County Championship in 1969.
"He was also a larger than life character who always had the best interests of the club at heart and continued to be involved closely with the club after his retirement.
"Malcolm will be sorely missed by everyone at Glamorgan and throughout the cricketing world."