Cricket World Cup: Fan trouble at Pakistan v Afghanistan at Headingley
By Amy Lofthouse
BBC Sport at Headingley
Last updated on .From the section Cricket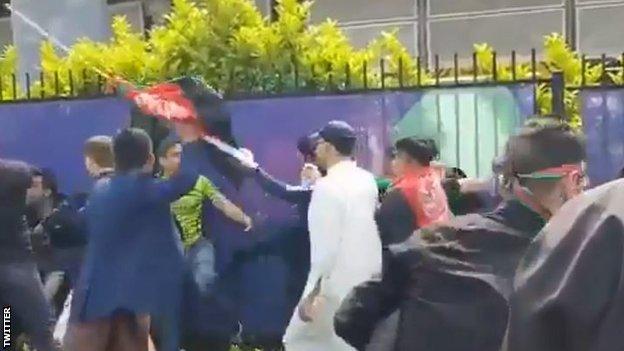 Action will be taken to punish fans involved in "scuffles" at the World Cup match between Pakistan and Afghanistan at Headingley, says the International Cricket Council.
Videos on social media showed fans clashing outside the ground and a group trying to break through the gates between the main road and the ground in Leeds.
Fans were also seen jumping over the fence that surrounds the ground and gaining access to the concourse behind the Western Terrace.
The clashes continued after Pakistan's thrilling three-wicket victory, with supporters charging on to the pitch and some fans captured on camera throwing punches at each other in the stands.
An ICC spokesperson said they were aware of "some scuffles among a minority of fans".
It was also reported that "physical clashes" in the stands led to some being evicted from the stadium.
"We are currently working with the venue security team and local police force to ensure there are no further incidents," the spokesperson added.
"We do not condone this type of behaviour, and will take appropriate action against any anti-social behaviour that spoils the enjoyment for the majority of fans."
Speaking after the game, Afghanistan skipper Gulbadin Naib said: "We're here to leave a good impression of my team and also my country.
"So if you look at my country, there's not good going on in the last 40, 45 years. But we're here to show to the world we want friendship.
"To all the audiences watching these kinds of matches, this is only a cricket game. Just watch the cricket game. It's a sport."
West Yorkshire Police said they were called to "reports of some trouble outside the ground linked to people trying to get in".
"Officers attended to disperse the group without any issues and remained on patrol in the area," a statement added.