Cricket World Cup: Eoin Morgan will not try to stop booing of Smith & Warner
By Stephan Shemilt
BBC Sport at Lord's
Last updated on .From the section Cricket1104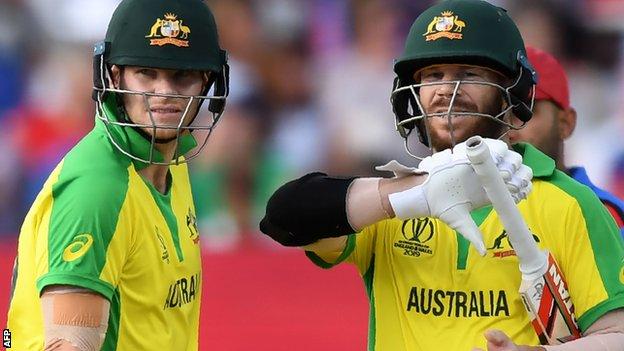 ICC Men's Cricket World Cup: England v Australia
Venue:
Lord's
Date:
Tuesday, 25 June
Coverage:
Watch in-play clips & highlights on the BBC Sport website, live Test Match Special radio commentary & text updates on BBC Radio 5 Live Sports Extra & BBC Sport website
Captain Eoin Morgan will not try to prevent England fans booing Australia pair Steve Smith and David Warner during the World Cup match at Lord's on Tuesday.
Smith and Warner have been received with hostility since returning from one-year ball-tampering bans, but India skipper Virat Kohli asked their fans not to jeer Smith when they met earlier in the tournament.
"Regaining trust takes a lot of time. Who knows how long it will take?" Morgan told BBC Sport.
"I don't think I could do anything, or should do anything, to try to influence the fans to change their minds."
Ex-captain Smith and his former deputy Warner were both suspended for their part in a plot to rub sandpaper on the ball during Australia's Test series in South Africa in 2018.
The World Cup is their return to the global stage and Tuesday's game at Lord's will be the first time since the bans they have met England in a full international.
Before the tournament began, Australia coach Justin Langer asked supporters not to boo the pair, saying they have "paid a big price".
However, in his column for the Daily Telegraph, England's Jonny Bairstow pointed out that the plea was at odds with the comments of former Australia coach Darren Lehmann, who urged home fans to make Stuart Broad "cry" during the 2013-14 Ashes.
For their part, both Smith and Warner have said that boos are "water off a duck's back", while England pace bowler James Anderson has suggested they will act as encouragement for the latter to perform better.
Speaking on Monday, Morgan added: "Sport is beautiful in many ways, but cricket is the romantic sport of all sports.
"I would never use the position I'm in to influence fans or try to change the game in some way.
"They have committed something and they have served their penalty. It doesn't necessarily mean they are welcomed back with open arms into the cricket community."
When asked about the reception his players may receive, Australia captain Aaron Finch said players cannot control the views of the fans.
"Even if someone comes out and says 'do' or 'don't', it's going to happen," said Finch. "It hasn't affected our boys one bit. I can honestly say that.
"As a player, you don't tend to hear a lot from the fans. That is the last thing on Steve or Davey's mind when they walk out to bat."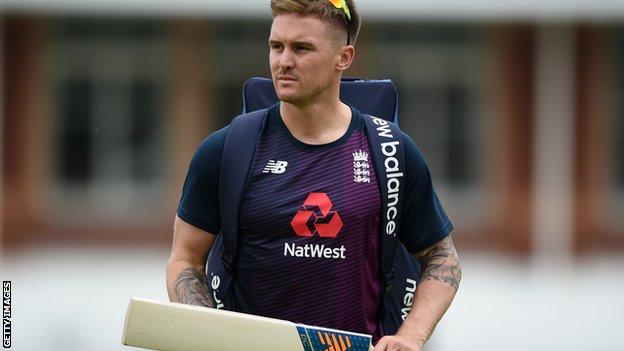 With the World Cup being followed by an Ashes series, Finch was asked about the relationship between Bairstow and Warner, who formed a successful opening partnership for Sunrisers Hyderabad in this year's Indian Premier League - but were involved in fractious moments in the last Test series between the two sides.
"Global domestic tournaments have opened everyone's eyes to the fact 99% of the people you play with are good blokes," said Finch.
"Anyone will see a side of Davey when they play with him, and a side when they play against him.
"He's a great man. Jonny and him have had run-ins, but it's good to see that when you have an opportunity to get know someone, you take it."
England's shock defeat by Sri Lanka on Friday has left them fourth in the table, two points behind second-placed Australia.
With this being the first of three games remaining in the group stage, England need at least one win to secure a spot in the semi-finals.
They will once again be without opener Jason Roy, who has not recovered from a hamstring problem but was able to hit balls in the nets on Monday and is hoping to face India at Edgbaston on Sunday.
The green nature of the Lord's pitch may see the inclusion of an extra pace bowler at the expense of a spinner.
"I really enjoy playing against Australia," said Morgan. "It's the first fixture I look for when we play in a big tournament. It's always a special fixture and holds a special place in my heart."
Former England captain Michael Vaughan believes England need to win two of their last three games.
"All this talk of England needing to win one of the last three is nonsense," he told the BBC's Test Match Special.
"I'm twitchy and I'll tell you why - Sri Lanka play South Africa who are already knocked out, they play the West Indies who are already knocked out, Sri Lanka play India in the last game…and I don't want it to sound like skulduggery, but would India prefer England or Sri Lanka in the semi finals?"
Analysis
Former England assistant coach Paul Farbace on the TMS podcast on how England will plan to bowl at David Warner:
David Warner is one of those guys who likes to hit boundaries when he first comes in. He wants to get on top of the bowlers and dominate the ball.
So you need to get the ball going across him early in his innings. You're looking to land the ball around middle and leg stump. Do that and you've always have a chance of nicking him off early. That's a plan a lot of teams around the world have used successfully against him.
Get the ball angled and across the wicketkeeper and the slips are always in the game then. If you do get that line and you can get a bit of shape into him you've also got the chance of lbw.
What's the plan if he gets going?
He is a big ego player, he loves to hit boundaries and dominate so once he gets in, you've got to dry him up and make him hit the ball where he doesn't want to. Bowl wide and full at him so he can only score through the offside between third man and extra cover.
If you try and bowl a line just outside off stump he can hit both sides of the pitch; he is very good at that and we know he cuts and pulls very well. So bowl as full as possible and make him hit through the offside, limit his scoring area.
If you can stifle him, make sure you're dominating and dictate where he can score his runs, then you have a chance of forcing an error and getting him out.