Cricket World Cup: David Warner 'shaken' as bowler struck on head in Australia practice session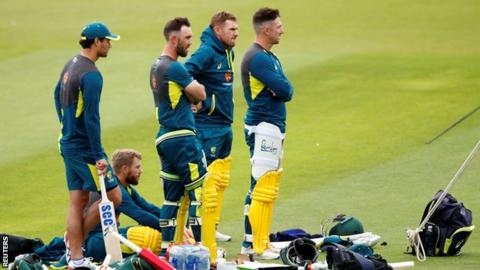 Australia batsman David Warner was left "shaken up" after hitting a net bowler on the head with a powerful drive, said captain Aaron Finch.
His visibly concerned team-mates had to halt their practice session at The Oval while medics treated the bowler - a local cricketer named Jaykishan Plaha.
He later tweeted from hospital, where he was taken as a precaution: "I will be back! Road to recovery begins."
Defending champions Australia face India in a World Cup match on Sunday.
"The net bowler has been taken to hospital as a precautionary measure because it was a head injury," International Cricket Council venue manager Michael Gibson told reporters.
"He was conscious and smiling as he was taken off."
He was among a handful of local cricketers helping the Aussies prepare for their third match of the World Cup in London.
Finch said: "Dave is obviously pretty shaken up. The young guy is in pretty good spirits at the moment. He has obviously been taken to the hospital to be assessed that everything is OK.
"It was a pretty decent hit, so hopefully everything goes well for the youngster and he is up and running shortly."
Cricket Australia later confirmed the bowler was being monitored for delayed signs of concussion, but that a CT scan had cleared him of any major damage.
In 2014, 32-year-old Warner, who returned to playing international cricket in April after a year-long ban for ball-tampering, was playing for New South Wales in the Sheffield Shield game when his Australia team-mate and close friend Phillip Hughes was fatally struck on the head by a ball while batting for South Australia.
In July 2017, Nottinghamshire bowler Luke Fletcher was struck on the head by the ball during a T20 Blast match, ruling him out for the season.
At the time, the 30-year-old said he was "lucky to still be here" and that he "dodged a bullet", after he was hit by a straight drive from Birmingham Bears batsman Sam Hain.
"It's quite rare that somebody gets hit, it's really unfortunate," Finch added.
"Our own medical staff and the paramedics on the ground did a great job."