Alex Hales return rained off as Notts-Durham One-Day Cup tie at Grantham is abandoned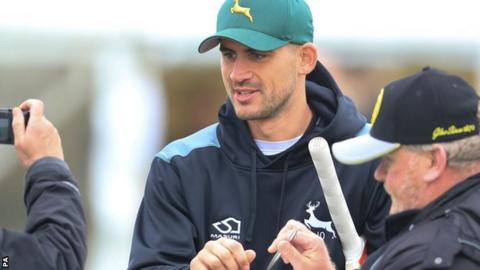 Royal London One-Day Cup, Gorse Lane, Grantham
Nottinghamshire v Durham
Match abandoned - Notts and Durham 1 pt each
Scorecard
Discarded England batsman Alex Hales' return to Nottinghamshire duty was wrecked by the weather as their home One-Day Cup North Group game with Durham was abandoned as a draw.
The 30-year-old was set to play at Grantham and make his first appearance since being removed from England's World Cup squad on Monday.
But the game was finally called off following a 15:20 BST pitch inspection.
Both Notts and Durham still have work to do to guarantee a top-three place.
Hales had hoped to bring a turbulent week to a happier end after being included in Notts' starting XI for the first time this year.
It was initially said by Notts, following their win over Lancashire last week, that he was taking time away for "personal reasons".
However, it was then reported by The Guardian that he was serving a 21-day suspension for recreational drug use.
Following his England omission, Notts said it was "in the best interests of all concerned" for him to return to action as quickly as possible.
The England and Wales Cricket Board has still not confirmed why Hales was taken out of England's World Cup squad, citing confidentiality concerns.
Director of cricket Ashley Giles said on Thursday that Hales would still be part of the national set-up if details of his suspension had not become public.
Captain Eoin Morgan added that a "complete breakdown in trust" had led to Hales being left out and that decision was endorsed by senior players in the squad.
Notts on course for knockout phase
Victory for Notts would have confirmed a place in the knockout stages, but they still remain top of North Group with 11 points from seven games.
Durham, who also have one match remaining, have gone back above Worcestershire into third place on nine points, one behind second-placed Lancashire.
Notts and Durham both play their final group games away from home on Monday - Notts go to Wantage Road to play Northants, while Durham play Yorkshire at Headingley.
Before then, Worcestershire host Yorkshire at New Road on Saturday, while a sixth straight win for Lancashire at Warwickshire would seal their place in the knockout phase.
Grantham's Gorse Lane ground was staging its first List A match since 2000, when Lincolnshire hosted Netherlands in the NatWest Trophy.
Notts head coach Peter Moores:
"We came and trained here yesterday - and speaking to the groundsman and everybody they had prepared a great pitch and done all the work, so it seems so unfair that they had a big showpiece game and the weather came and spoiled it.
"It's going to go down to the wire, we must be close to officially qualifying. It's that sort of table this year, very jammed up at the top and it will come down to t he last game and we know that f we can get a win at Northampton it will guarantee us a home semi-final, which is the main thing for us to focus.
"Alex (Hales) has fitted back in fine. We trained together yesterday as a squad, so that was a good chance for Alex to get back amongst the squad and the players."
Durham head coach James Franklin:
"We can't control one aspect of our sport and the weather hasn't played its part today.
"A lot of work has obviously gone in behind the scenes here, the first first team match for Notts in Grantham, so it is disappointing that we couldn't get out there.
"A point today probably neither helps not hinders, it still means we have to go to Headingley on Monday and get a positive result (against Yorkshire)."