Chris Cooke: Glamorgan name wicketkeeper as captain for Championship & One-Day Cup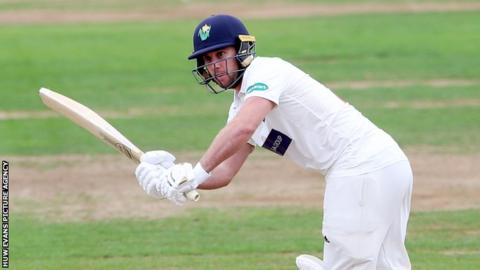 Wicketkeeper Chris Cooke has been named as the new Glamorgan captain for the County Championship and One-Day Cup this summer.
Cooke replaces Michael Hogan for the Championship and will also lead the side in 50-over cricket in place of Colin Ingram.
Former South Africa batsman Ingram will continue to lead the side in the T20 Blast.
"I'm excited to take the role on a more permanent basis," said Cooke, 32.
The South Africa-born keeper made his debut for Glamorgan in 2011 and has played more than 200 games for the club across all three formats.
Cooke was vice-captain in 2018, leading the side in two T20 wins and a Championship defeat.
"The club's given me a lot of opportunities and I'm just happy I can repay them with the leadership. Massive credit to 'Hoges' over the last 18 months and I'll definitely be leaning on him for support," Cooke told BBC Sport Wales.
He believes the squad can improve on 2018, when they finished bottom of the Championship and missed out on the T20 quarter-finals.
"We didn't play to our potential last season, though we were unlucky with injuries and people having to go back home. But we've got a few guys back from injury, everyone's a year older and there's huge potential," he said.
Director of cricket Mark Wallace said 37-year-old Hogan relinquishing the role would help the Australia-born fast bowler prolong his career.
"Part of the move is trying to make sure to get the best of Michael, he's probably getting to the autumn of his career so we need to manage his workload well and make sure he's not bowling all those tough overs," Wallace told BBC Sport Wales.
"Chris showed some good leadership qualities in the few games he did last season, he's quite calm, very level-headed and is well-respected within the changing room.
"I did it [keeping wicket and captaining] for a few years, there's a traditional way of thinking it's really hard, but there's a lot of good keeper-captains round the world.
"Tim Paine will captain Australia from behind the stumps this summer, so there's no reason why Chris can't make a really good go of it."
Glamorgan are waiting for news of the likely Australia World Cup squad before they know whether they have to replace overseas signing Shaun Marsh for the first half of the summer.