Glamorgan Cricket: Matthew Maynard to coach county for 2019 season
Last updated on .From the section Cricket
Matthew Maynard will have a second spell in charge of Glamorgan after being appointed interim coach for the 2019 season.
The recruitment process for a permanent head coach will begin at the end of the season.
Maynard, who was head coach between 2008 and 2010, replaces former county and England colleague Robert Croft.
"The club's very close to my heart... I'm delighted to be given the opportunity," said Maynard.
Following Croft's departure in October 2018, Maynard took over responsibility for winter training in November 2018, a year after re-joining Glamorgan as a batting consultant.
He was previously in charge between 2008 and 2010, coming close to earning Championship promotion before an acrimonious departure sparked by re-structuring at the club.
"We can have a smooth transition to the start of the season, which hopefully will give us the best chance of success," Maynard told BBC Sport Wales.
"I guess that if we perform and meet the criteria that we want for the coming season, there's a chance I might stay on, but that's up to other people."
After starting work on 1 February, new director of cricket Mark Wallace has confirmed Maynard's appointment, with a further review of the role at the end of the season- though Maynard will carry on his batting consultancy in 2020 if he does not continue as head coach.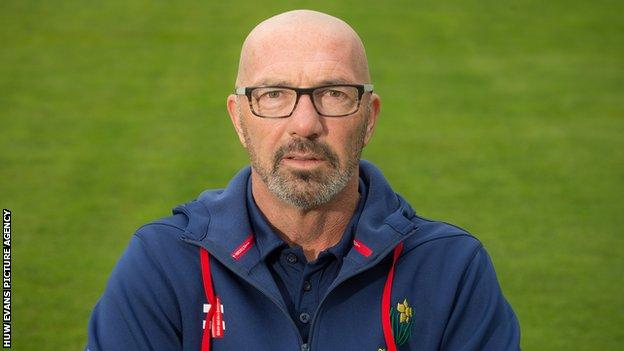 Maynard was a Glamorgan player for 20 years between 1985 and 2005, and led the club to the County Championship title in 1997.
He was assistant coach of England under Duncan Fletcher, and went on to coach Nashua Titans in South Africa and St Lucia Zouks in the West Indies, before spending three years in charge of Somerset.
It is that experience which Wallace justifies to reject any charge of "jobs for the boys", with all Glamorgan's coaching staff being former players.
"You'll always get a rumbling of that with me being an ex-Glamorgan player and Matt being a Glamorgan legend, but Matt's external experience stacks up against anybody's," Wallace told BBC Sport Wales.
"He's coached in South Africa, in the Caribbean and down at Somerset, and in a previous generation at this club, so his overall experience is too good a package to ignore."
Now Wallace and Maynard, both former county captains, will try to revive Glamorgan's fortunes after they slumped to the bottom of the County Championship in 2018 and failed to progress in the T20 Blast and One-Day Cup.
Batsmen Charlie Hemphrey and Billy Root have been signed from Queensland and Nottinghamshire, while Glamorgan wait to see the availability of Australia's Shaun Marsh.
The squad will travel for a training week to the sports resort at La Manga in Spain, facing Gloucestershire in practice matches.