Sri Lanka v England: Keaton Jennings & Rory Burns can 'take England forward'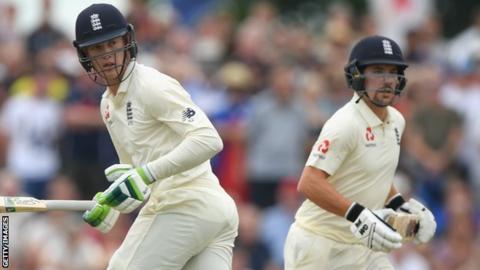 Openers Keaton Jennings and Rory Burns have shown signs that they can "take England forward for the next few years", says coach Trevor Bayliss.
Jennings averaged 46.60 and Burns 25.83 as England beat Sri Lanka 3-0, their final Test series before facing West Indies in February.
"We're a way from having cemented those spots down," Bayliss told BBC Sport.
"They have done enough to be on that tour and play some more Test cricket over there."
England sealed a first series whitewash - their first in Sri Lanka - with a tense 42-run victory in the final Test in Colombo.
Burns was a replacement Alastair Cook, England's leading run-scorer who retired at the end of this summer, while Jennings was Cook's final opening partner in Test cricket.
For the second half of Cook's career, England were unable to find him a consistent partner.
Jennings made an unbeaten 146 in the second innings of the first Test and took some sensational catches at short leg.
Surrey captain Burns, on his first England tour, made his maiden Test half-century in Pallekele.
"At this level, it's about runs and wickets, so it will be up to them to do the hard work and make big scores," said Bayliss.
England play the first of three Tests in the West Indies on 23 February.
Wicketkeeper Ben Foakes, who made a century on debut in the first Test as a replacement for the injured Jonny Bairstow, also impressed with his glovework.
Bairstow, playing as a specialist batsman, returned to the team to score 110 at number three in Colombo.
"The way Foakesey has gone in this series, he'll definitely be there for the next one," Bayliss told Sky Sports.
"It does keep the guys in the team in some of those positions on their toes. In the long run for England, that's a good thing - when you've got competition for places and you've got depth. Even Jos Buttler wants to keep.
"Every time a challenge has been thrown at Jonny, he has been able to come out and score some runs. Our challenge is to find a challenge every time he comes out to bat!"
'Fabulous' series win for Root - now for his wedding...
Victory in the opening Test in Galle was the first time England had won away from home in two years and also gave Joe Root his first overseas success as captain.
In going on to win all of the three Tests, England secured an away whitewash for only the third time.
"It has been a fabulous tour," said Root. "It has been a complete team performance throughout the whole trip.
"Everyone has contributed in some shape or form and that is the most pleasing and impressive thing."
England have won eight of their past nine Tests. That run followed Root's difficult first year as captain in which England lost 4-0 in Australia and were beaten in New Zealand.
"This series will give me a huge amount of confidence," said Root, who will get married on Saturday.
"We have not been afraid do things in a way we haven't before and we should look to harness that and embrace it.
"This team is capable of doing some really special things in the future if we maintain this attitude we have as a group. I feel confidence is building."