Sri Lanka v England: Keaton Jennings' brilliance at short leg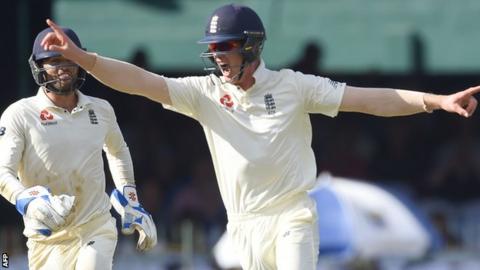 Keaton Jennings has been at it again.
During England's second Test against Sri Lanka, Jennings pulled off an incredible tumble and parry at short leg, pushing the ball to wicketkeeper Ben Foakes, who was left with a simple catch.
On day two of the third Test, Jennings helped shape England's recovery with no fewer than four catches in the same position, two of them absolute stunners.
No England fielder has ever taken more than four catches in a single Test innings, while the record for any nation is five. Given those statistics, it seems like Jennings' four catches in the dangerous position of short leg is an incredibly rare feat.
The opening batsman showed bravery, anticipation and stunning reflexes. Here's how he did it, how the experts reacted and what you had to say about it.
The catches
We'll go in ascending order of difficulty, rather than chronologically...
Karunaratne c Jennings b Rashid 83 (SL 187-3)
Someone as brilliant as Jennings would expect to catch these in his sleep. As the ball looped off the inside edge, the Lancashire opener took the catch in both hands in front of his face. Still, by this point, all three of the Sri Lanka wickets to fall had gone to the paws of Jennings.
Dhananjaya c Jennings b Rashid 73 (SL 173-2)
Getting harder, but still made to look simple by Jennings. Dhananjaya de Silva turned an Adil Rashid half-volley off the face of the bat, with Jennings snaffling the ball in both hands down by his left shin.
Roshen c Jennings b Rashid 3 (SL 222-6)
Now it's getting special. Roshen Silva inside-edged a Rashid googly, with the ball going quickly towards and then past Jennings. In the nano-second in which seemed the chance was gone, Jennings shot out his left paw, clinging one one-handed with the ball almost behind him.
Gunathilaka c Jennings b Leach 18 (SL 31-1)
This narrowly edges the catch of Roshen because Jennings didn't really have a right to be in position to take it. When Danushka Gunathilaka advanced down the pitch to Jack Leach, Jennings showed the courage and presence of mind to move with the batsman. Even though Gunathilaka was aiming to swipe the ball in Jennings' direction, the England man kept his eye on the leather and grasped into into his belly when it was inside-edged onto the batsman's pad.
'Jennings turned it around' - what they said
BBC cricket correspondent Jonathan Agnew: "England had a very ordinary two-thirds of the day - they really drifted. But they lifted themselves. It started with Jennings at short leg. He has worked really hard there and he deserved those catches."
Former England off-spinner Vic Marks on the Test Match Special podcast: "Dhananjaya said that it was Jennings who turned it all round. He took three brilliant catches."
England leg-spinner Adil Rashid told BBC Sport: "It was wonderful. He's alert. He practises so much and he reads the game. We've found a specialist position for him. He's taken some superb catches and a lot of credit goes to him."
Telegraph cricket correspondent Scyld Berry: "There can't have been a better display of catching off spinners by an England short-leg."
'The shortest movie ever' - what you said on #bbccricket
Andrew Reardon: If Keaton Jennings was Dick Dastardly, he would have caught the pigeon.
Steve Pye: With Keaton Jennings catching everything that comes his way, surely his nickname in the dressing room must be Pat?
John in Nibley: Keaton Jennings could catch Chuck Norris.
DaddyT: Keaton Jennings would have been able to touch MC Hammer.
Jim Partridge: If Keaton Jennings was Pamela Landry she would have caught Jason Bourne.
Gareth Davison: Shortest movie ever...