Glamorgan Cricket: Toby Radford interested in coaching return
Last updated on .From the section Cricket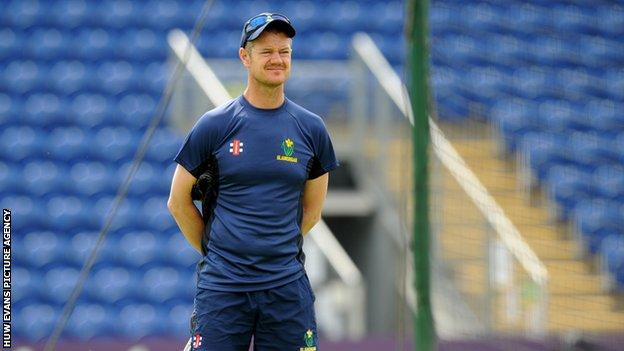 Former Glamorgan head coach Toby Radford says he would consider a return to the county.
West Indies assistant Radford was in charge at Glamorgan for two seasons before his departure in 2015 when he was replaced as head coach by Robert Croft.
Glamorgan have director of cricket and head coach roles available and Radford would be interested in a second spell.
"If the opportunity did arise I would certainly look at it," said Radford.
Croft left as head coach in October 2018 while Hugh Morris saw his dual roles as chief executive and director of cricket separated.
Radford is currently in his second spell with the West Indies coaching team and is contracted until October 2019.
The former Middlesex coach says he is enjoying the role as he prepares for next year's World Cup but lives in Wales when he is not travelling.
"I enjoy working with the West Indies and travelling the world," said Radford.
"That is going very well but whenever we are not touring, home for me is Cardiff and Glamorgan is the team I still follow."
The head coach position interests Radford rather than the director of cricket position which will be appointed first in December.
"The director of cricket role is more suit and tie and dealing with contracts," said Radford.
"I am more of a hands on tracksuit man. I like that practical side and working with players in the nets.
"It would be looking at who is appointed as director of cricket and potentially then having a look at the coaching role."
'Unfinished business'
Radford insists returning to Glamorgan would not be a problem and says he could work with chief executive Morris.
"You move on in professional sport," said Radford.
"I would have no problem in going back and hopefully the club would look at it in the same way.
"I have met with Hugh since and it is about looking forward, not back.
"It is three years since I finished there and it feels like unfinished business because the team were progressing.
"We had a good season where we won four championship matches in a row, finished fourth in the league and I felt we were pushing for promotion."