Sri Lanka v England: Jos Buttler took initiative from hosts - Jonathan Agnew

By Jonathan Agnew
BBC cricket correspondent
Last updated on .From the section Cricket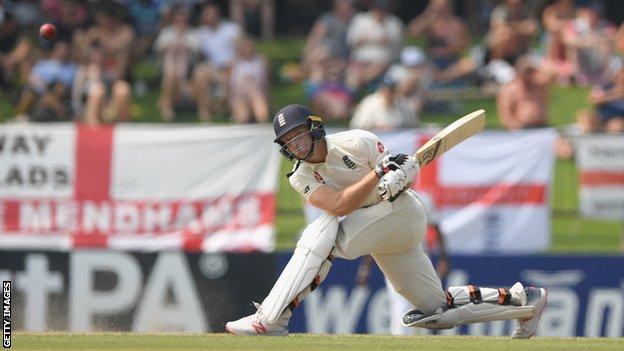 Although Sam Curran was more explosive, Jos Buttler was the standout performer on day one of England's second Test in Sri Lanka with a really clever, modern innings.
England were 89-4 and looking very vulnerable but Buttler held it together then took the initiative back from bowlers who were dominating on a turning pitch in Pallekele.
His knock was so unorthodox - 51 of his 63 runs came from various types of sweeps - it caused Sri Lanka a lot of trouble.
They had no idea how to set fields for him and he forced the bowlers to bowl the wrong lengths.
Compared to the first Test in Galle, where I was critical of England's approach, this is a far more difficult pitch. Here there is a ball with your name on it so you have got to do something to put the pressure back on the bowlers, which is exactly what Buttler did.
Had Buttler just played forward and defended in an orthodox fashion, the odds are a ball would have bowled him or ended with him caught at slip.
Instead he showed he has got very shrewd ways of scoring in difficult conditions.
What you try when the bowlers are on top has to be as low risk as possible, but because of all the limited-overs cricket Buttler plays he is so adept at sweeping and reverse-sweeping that for him those are not high-risk shots.
It may be a pitch on which the bowlers do not have to work too hard, and just bowl the ball in the right place, but Buttler did not allow them to.
He may have got out playing a reverse-sweep but that ball bounced on him to catch the top edge and by then he had already taken the advantage away from Sri Lanka.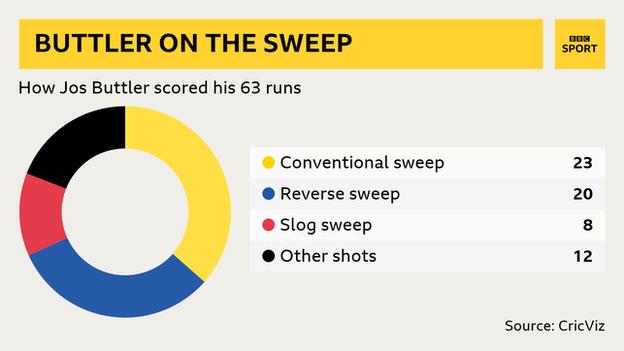 Curran played a spectacular innings - hitting six sixes and one four in his 64 and putting on 60 for the last wicket with James Anderson to take his side to 285, a stand that may be the most instrumental in England winning the match.
It was one of the best examples I have seen of how to change gears during an innings. Curran took 58 balls for his first 14 runs but then needed only 61 deliveries for his next 50.
England should let him play the way he is at the moment and worry about moving him up the order later, though they are going to be quite flexible with their batting order and that is fine.
I have thought that batsmen have been far too precious about where they bat over the years and never understood why they cling to one position.
It is only a batting position, everyone has to bat some time, so why not move people about? Ben Stokes batted at three here but who is to say someone else could not move up there if the game dictates?
As a team of all-rounders, England might have one that bowls a few more overs and can then drop down the order and someone else move up. Maybe it is going to be the start of a new way.
Keaton Jennings remains a concern, though. He is a good player of spin but he continues to look fallible against faster bowling around off-stump.
The way he got out was a complete carbon copy of the way he got out all last summer and he has just got to get it right; he is not going to be facing spin bowling for the rest of his career.
Sri Lanka look like a team low on confidence - you could see the way they retreated. When Curran changed tactics and went after the bowling, the hosts really lost the plot.
He was allowed to score a single off the last ball of the over far too often. Suranga Lakmal may be an inexperienced stand-in captain with Dinesh Chandimal out injured but stopping an in batsman keeping the strike is pretty elementary stuff.
Watching Sri Lanka walk off after Curran's onslaught, they were there for the taking - they could have easily lost two or three wickets instead of just the one.
Jonathan Agnew was speaking to BBC Sport's Jack Skelton.