John Hastings: Former Durham, Worcestershire and Australia all-rounder retires
Last updated on .From the section Cricket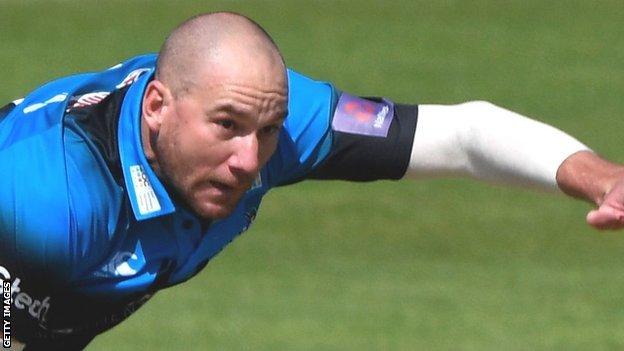 Former Durham, Worcestershire and Australia all-rounder John Hastings has retired from cricket at the age of 33.
It comes after doctors told him they could not cure a mystery lung condition causing him to cough up blood.
"There was a lot of grey area long-term, whether it was causing any damage, and if there was any potential to have a fatal bleed on the field," he told the Sydney Morning Herald.
"They just really couldn't say yes or no. And I wasn't happy with that."
After seven seasons in Australia's Big Bash with Melbourne Stars, including 2017-18 as captain, he was due to play for Sydney Sixers in the 2018-19 competition, which starts in December.
He told the BBC World Service 'Stumped' podcast in October: "It's quite scary, it's probably been happening for about 18 months now.
"Throughout the off season I hadn't picked up a ball for five or six months, then when I started getting prepared for this season's Big Bash and literally every time I started to bowl I was just coughing up blood.
"It's a pretty sad situation, it's been a hard period just to get my head round as well."
John Hastings' career details
Sydney-born Hastings, who won one Test cap against South Africa in Perth in 2012, also played 29 one-day internationals and nine T20 matches for Australia.
Hastings played in England for Durham in both 2014 and 2015, but his hopes of returning in 2016 were thwarted by a shoulder injury.
He then signed for a full season's duty with Worcestershire in 2017.
In a mid-season break to play for Australia in the Champions Trophy, he made what proved to be his final international appearance against New Zealand at Edgbaston.
But he then missed the final two months of the season when he was recalled by Cricket Australia for treatment on a foot injury.
He also played Twenty20 cricket for Kochi Tuskers Kerala, Chennai Super Kings and Kolkata Knight Riders in the Indian Premier League.