Andy Zaltzman on England v Sri Lanka, Jonny Bairstow & Keaton Jennings

By Andy Zaltzman
Comedian & BBC Cricket Social statistician
Last updated on .From the section Cricket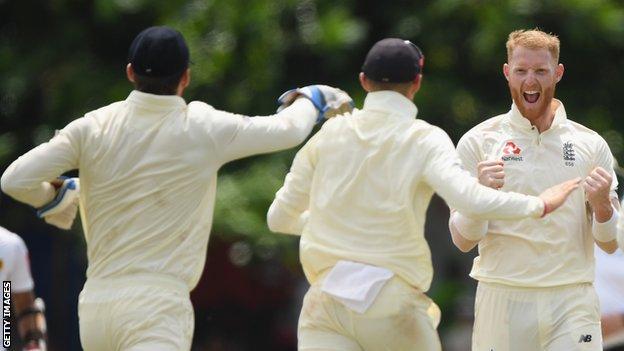 Sri Lanka v England: Second Test
Venue:
Pallekele International Cricket Stadium, Kandy
Dates:
14-18 November
Coverage:
Watch and listen to the Cricket Social and follow live text commentary on the BBC Sport website & app
Even in this confrontational, truth-disputing age, no-one could disagree with the claim that England's victory in Galle was their finest overseas win in Test cricket for at least two years.
Admittedly, this is an accolade earned from a shortlist of one but, after two winters of discontent, involving some aggravated cases of repetitive strain injury among the England squad and management caused by frowning at news conferences, a win of such magnitude and quality was welcome, overdue and strikingly impressive.
After a national record 13 successive winless Tests on tour, including 10 defeats, and against a Sri Lanka team which - while far from a cricketing powerhouse - had beaten South Africa, Australia and West Indies at home by a combined total of 7-0 over the past three years, this was a superb all-round England performance, speckled with notable individual triumphs.
Quite how a team with England's financial resources and cricketing talents had managed to avoid victory for 13 consecutive away Tests is a question for another time.
Instead, here are the questions facing England heading into Wednesday's second Test in Pallekelle:
Should Jonny Bairstow return? And, if so, where does he fit in?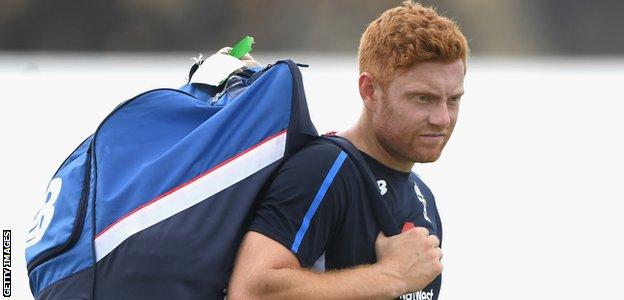 As the ancient saying goes, "Do not twist your ankle playing football, thus ruling yourself out of an impending Test match, for your replacement may become the first Test debutant in cricket history both to score a century and execute a stumping" (Aristotle, On Cricket, 347 BC).
After Ben Foakes took to Test cricket like a duck to a Chinese pancake, the Bairstow conundrum will be exercising the England selectors this weekend, once they have finished vigorously high-fiving themselves about their increasing catalogue of recent successes.
Last winter, England's selectors were reduced to filling up England's XI by appearing to randomly conscript players from the general public, with the same system that is used to select people for jury service, with mixed results.
This winter, they face the challenge of squeezing their squad down, rather than up, to 11, and much of the focus has been on whether to reincorporate Bairstow and, if so, how.
Bairstow's recent wicket-keeping has been excellent. His statistics with the bat, however, have been adequate but unspectacular.
He has averaged 27 in his last 17 Tests, albeit having played a few notable and influential innings, particularly his crucial 70 in the series-shaping first Test against India last summer.
Over the course of his career, when playing as wicketkeeper, Bairstow has generally been outstanding in the opening innings of Tests, before keeping wicket, (averaging 57, with all five of his Test hundreds), but has been considerably less productive in the second, third and fourth innings of the game, after he has spent time in the field with the gloves (averaging 32, and with only one half-century in his past 18 such innings).
The numerical evidence, therefore, seems to suggest that Bairstow bats best when he thinks he is about to keep wicket, and bats less well when he has already kept wicket.
What England clearly need to do is convince Bairstow that he will keep wicket, but find an excuse not to allow him to do so, whilst promising that he will definitely take the gloves next time England bat, before repeating the process for the next eight to 10 years.
Thus they will have the dominant peak-Bairstow that any team would want in their line-up. The logistics of this statistical subterfuge will presumably be within the scope of England's vast army of backroom staff.
Can England's spinners out-perform Sri Lanka's by a decisive margin again?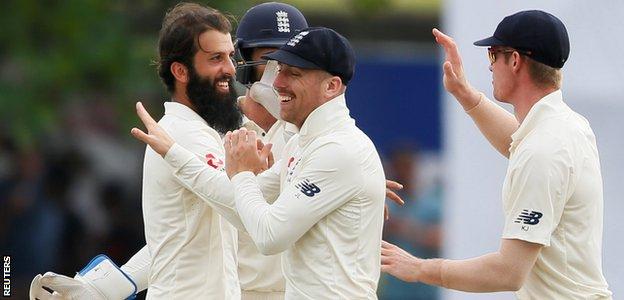 In Galle, England's batsmen had one of their finest performances against spin, and England's spinners one of their best matches against anyone.
England's spinners took 16 for 328 in the match, at 20.5 runs per wicket - only the second time since 1975 that an English spin attack has taken 15 or more wickets in a Test. The other was the famous victory in Mumbai late in 2012, when Graeme Swann and Monty Panesar took 19 between them.
Sri Lanka's slow bowlers took 12 wickets in the match, but at a cost of 548 runs; their collective match average of 45.6 being the worst by a Sri Lankan spin attack in the 14 home Test matches they have played against England, and the second worst by a Sri Lankan spin attack in 39 home Tests against non-Asian opposition since May 2003.
Keaton Jennings was especially impressive and now averages 70 against spin - and 18 against pace - in his 13-Test career.
His spin average is currently the sixth best of the 142 players who have faced 300 or more balls of tweakery in the last five years of Test cricket.
England will hope the confidence of success will enable him to narrow the gulf between his performances against spin and pace.
What can we expect in Pallekele?
The pitch in Galle did not deteriorate as had been widely expected, and previous matches at Pallekele suggest batsmen may thrive in the second innings again.
Jennings' century was England's fourth second-innings hundred in their past four Tests; they had only one in their previous 45 matches, a truly extraordinary communal performance of endurance honours-board avoidance, in which, between May 2015 and August 2018, they converted only one of 60 second-innings half-centuries into three figures.
Of the 49 grounds to have hosted three or more Tests this decade, Pallekelle has the sixth highest collective batting average in the second innings of matches.
It has also been the most productive ground in Sri Lanka this decade for visiting pace bowlers, who average 26.9 with a wicket every 53 balls.
One thing England should be aware of is the danger of bowling Sri Lanka out in 34.2 overs on the first day.
Australia made this fatal error in 2016, only for Kusal Mendis - the brilliant if inconsistent young batsman - to play one of the finest innings of the century so far, making 176 in a match in which no-one else reached 60. Sri Lanka eventually won by 106 runs.
Who should bat at number three for England?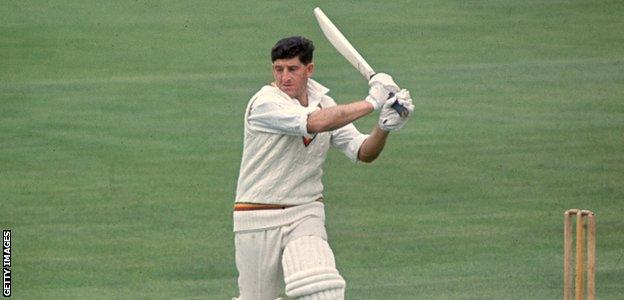 *Niche stat alert*... Moeen Ali's eight wickets were the joint second most ever taken in a Test by a player who has batted at three in both innings.
However, his match total of three runs was, in modern parlance, suboptimal (the second-lowest two-innings match aggregate by an England number three in a Test in Asia, marginally ahead of Keith Fletcher's haul of two runs in Delhi in 1972-73).
England have now played 26 consecutive Test matches without a number three batsman making a century (Joe Root's 124 in Rajkot two years ago was the last).
This is the fourth longest number-three-hundred-free sequence in their Test history - 38 was the longest, from 1971 to 1974.
Three has long been a problem position for England. In the 51 years since Ken Barrington, who averaged 77 at three, last batted in that position, England's threes have collectively averaged 35.9, the third worst figure of the 10 regular Test-playing teams, ahead of only Bangladesh and Zimbabwe.
Even with home advantage, England's Test threes have been less productive than their opponents - averaging 37.6, compared to the 40.6 of all other teams' number threes in Tests in England.
And finally...
Here are some other stats for you to casually drop into conversation with passing strangers, on public transport, on disappointing dates, or in awkwardly slow journeys in a lift:
The Galle Test was only the fourth time England have scored 300 or more in both innings of a Test in Asia.

It was also only the second time since the 2004-05 winter that England have bowled out their opponents for 250 or fewer in both innings of a Test away from home (the other was in Durban, against South Africa, in the Boxing Day Test of 2015).

To find the last Test away from home in which an England wicketkeeper did not concede a single bye, you have to delve all the way back through the murky wastelands of history to… brace yourselves… the last Test England played away from home. Jonny Bairstow kept the byes column unsullied in Christchurch this year. Ben Foakes was the first England wicketkeeper not to allow a bye in a Test in Asia since his erstwhile Essex mentor James Foster, in the Mohali Test against India in December 2001 (a match which, coincidentally, was also Foster's Test debut).

Moeen Ali took the same number of wickets in Galle - eight - as he had in his previous nine overseas Tests. Two years ago, after the second Test in India in which he took four wickets, Moeen had a marginally better bowling average overseas than at home (37.7 to 40.5). From then until the Galle Test, he had taken just eight wickets, average 130, in nine Tests away from home, whilst reaping a tidy home harvest of 42 wickets at 21.2 in nine home Tests.
Got a question for Andy?
Got a burning statistical question you'd like to have answered. Submit your questions to Andy via email on tms@bbc.co.uk (using the subject line 'Ask Andy Zaltzman') and he will answer some of the best ones on The Cricket Social, which returns to the BBC Sport website at 07:00 GMT on Wednesday.