Sri Lanka v England: Tourists' Galle win special and significant - Jonathan Agnew

By Jonathan Agnew
BBC cricket correspondent
Last updated on .From the section Cricket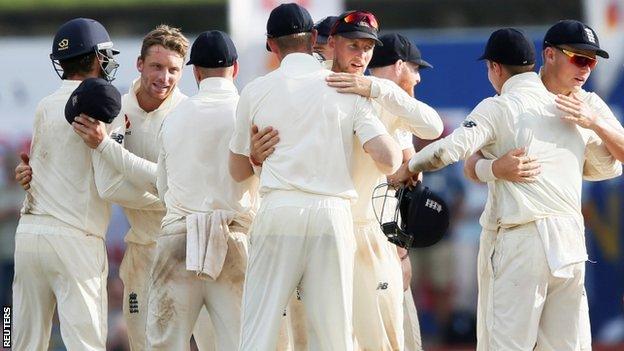 The fact England have beaten Sri Lanka here in Galle inside four days and recorded their first overseas win in 13 Tests makes this a really special and significant victory.
Whenever you win somewhere overseas for the first time it is always very special - but before this game nobody expected England would triumph here because they had had virtually no preparation.
We wondered about them playing against Sri Lanka's spinners, we wondered about the pitch - whether it would be as difficult as it usually is here - and we also had concerns about the weather.
The win also goes against form.
England had not won in 13 Tests, had never won in Galle and had had a miserable time in Bangladesh and India in similar conditions.
Earlier this year, South Africa got completely thrashed on a dust bowl here in Sri Lanka.
This victory will give Joe Root a lot of confidence because it is his first as captain overseas.
After the winter Root had in Australia and New Zealand - losing five of their seven matches - he will feel much better after this Test, that's for sure. He will enjoy the moment.
There are lots of positive things to take out of the win - the emergence of Ben Foakes, the batting of Keaton Jennings, and also the contributions with the bat of Ben Stokes and Jos Buttler.
England's spinners will have gained a lot of confidence, having taken eight of the wickets to fall on the final day.
I was pleased to see Jack Leach turn some quite sharply because he is not a huge spinner of the ball. That again will give him confidence to be part of a team to have bowled a side out.
Root shuffled his bowlers around well.
He has lots of options on this tour but I am glad he got Stokes running in hard after lunch - he bowled a really whole-hearted, aggressive spell with a lot of bouncers.
I think that is the best way to use Stokes in these conditions to rough the batsmen up.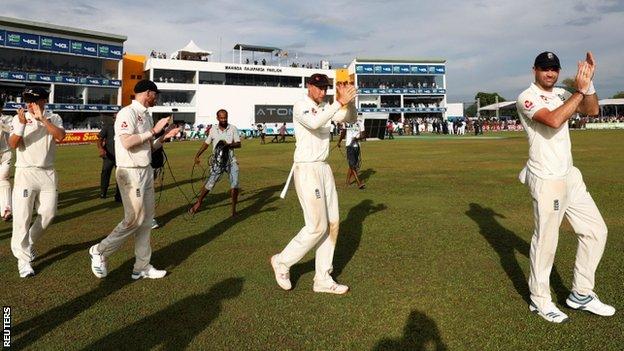 I liked Root's field placements too.
His captaincy for the wicket of Kusal Mendis was good because after Mendis hit over the top a ball earlier, Root could have moved the fielder back - but he kept Moeen Ali up and he took the catch at mid-off.
The pitch was interesting. It was the best I have ever seen here.
I do wonder if the Al Jazeera allegations of corruption - the documentary that featured the former groundsman here - put some focus onto the preparation of this pitch.
Whether the International Cricket Council made it clear it was monitoring proceedings and that - on top of the rain and the covers being on before the match and in the evenings - contributed to it being a better pitch I don't know.
This was a slow, turning pitch and not one ball exploded throughout the match. I think that surprised both teams.
At the end England looked delighted. They have had tremendous support here, with 5,000 England fans in Galle, and they did a lap of honour after their victory which was nice.
Overall, Sri Lanka played pretty poorly.
It will be very interesting to see how they come back from this - they are not used to losing Test matches here.
The hosts will not have the now retired Rangana Herath playing any more, so they will have to look at how they line up with their spin.
Their captain Dinesh Chandimal also has a groin strain. They have some issues to sort out.