Heather Knight column: Women's World T20, University Challenge and training in the Bake Off tent
Last updated on .From the section Women's Cricket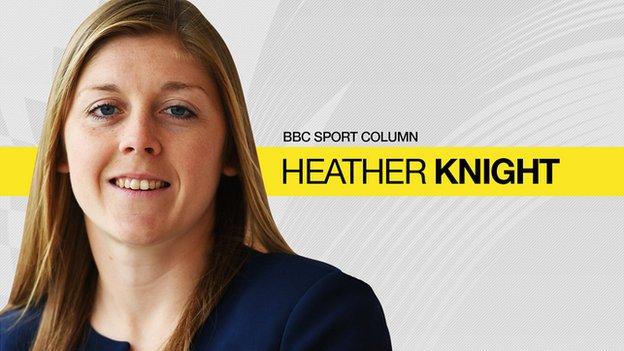 ICC Women's World Twenty20
Venues:
Guyana, St Lucia, Antigua
Dates:
9-24 November
Coverage:
Ball-by-ball Test Match Special commentary and in-play video highlights on all games on BBC Radio 5 live sports extra and via the BBC Sport website & app; live text commentary on all England & Ireland games, plus selected other matches
Since the English summer season came to an end after Kia Super League finals day, all of our attention has been on the ICC Women's World Twenty20 in the West Indies and the exciting opportunity we've got to become double world champions.
It's going to be seriously difficult, but we'd love to emulate what the team did back in 2009. We get under way against Sri Lanka on Saturday (20:00 GMT), so make sure you're watching or following the game!
Independence Day, Bake Off tents and food festivals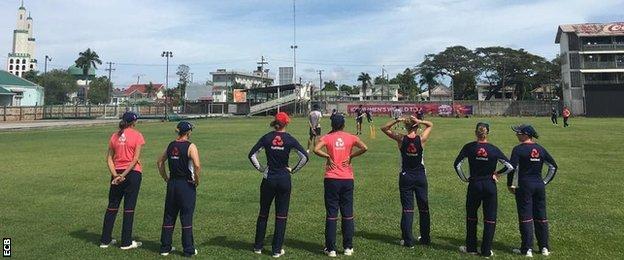 We've had four warm-up games out here to prepare us for the tournament proper, with three in Antigua and one in Guyana.
The game against West Indies at the Sir Vivian Richards Stadium couldn't have been a better warm-up or a better test for us. It was Antiguan Independence Day, which meant there was a huge festival of food (and rum!) next to the stadium, so there was something like 4,000-5,000 people watching, including a big group of Brits who came along from our hotel. It was brilliant.
Hopefully it will be a sign of things to come once the tournament gets started, because the atmosphere and the support was special.
The warm-up games have been a nice chance for us to get used to the conditions, and it has been very hot and humid. The pitches have been similar to what we've expected and prepared for, being slightly on the slow side and taking some turn.
However, with our group games on the island of St Lucia, these may be completely different again, so we've got to make sure we're able to adapt to whatever surface is put in front of us.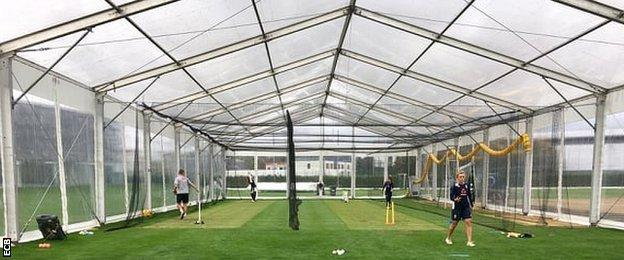 Before we left, we'd had the Great British Bake Off tent up at Loughborough (sadly minus the cakes!), which enabled us to train on grass pretty much since the season ended, and also allowed us to replicate the humid conditions of the Caribbean.
That was a really big bonus because it can be hard to transition from training on faster, flatter surfaces indoors to playing outdoors. Hopefully we're as fully prepared as we can be.
The wedding of the year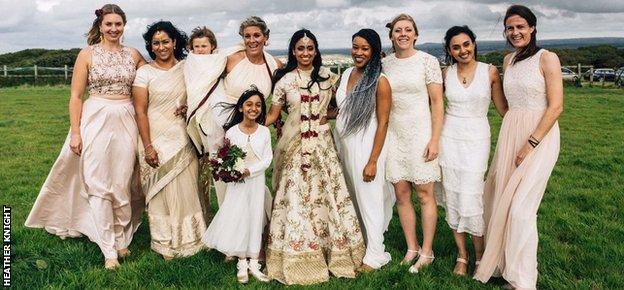 Post-cricket season it always feels slightly strange to get your weekends back, as I'm sure all you club cricketers out there know.
One of those free weekends in September was spent being a bridesmaid at the wedding of one of my best mates, ex-England seamer Isa Guha, down in St Ives.
It was a truly amazing day and I couldn't be happier for Isa and husband Rich. Easily the wedding of the year.
I also spent one slightly contrasting weekend at Tooting Bec athletics track in the pouring rain, watching one of my friends compete in a 24-hour ultra race around a 400m track - I know, it was as bonkers as it sounds.
He's been dying to make it on here and after calling out to me after 200 laps, that "this better make it in the blog", I had to get him in - so well done Pete on running in a circle over 500 times (that's over 200km by the way).
Universally Challenged?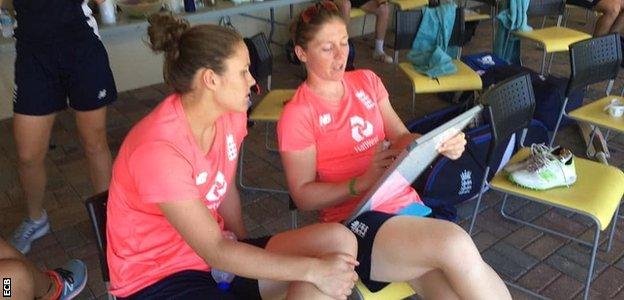 One Monday evening last month my Twitter feed started to go a bit mad - apparently they were scraping the barrel on University Challenge and there was a round of questions on me!
I was chuffed as it's the only time I've ever got a full round right when watching the show… I usually average three correct answers an episode if I'm lucky.
When I lived with mates in Cardiff for the year after I graduated, we used to sit down as a house - myself representing 'University of Life' and my friends as 'University of Cardiff' and 'University of UWIC' - to battle it out, so it's pretty cool to be on the show.
I could have done with those points back then, as I was often bottom of the house leaderboard.
These were the questions on the show - can you get them all correct? Answers at the bottom of this page.
(1) In 2011, Heather made her Test debut against Australia at the Bankstown Oval in which city?

(2) Against which South Asian team did Heather score a fifty and take five wickets in a one-day international, becoming the first woman to do so?

(3) Heather became captain in 2016 following the retirement of which team-mate, who'd been playing for England since 1996?
Trev's Tours - and Gunn beats the drum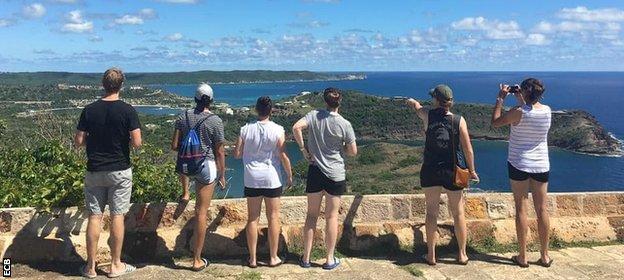 In between warm-up games we had a day off in Antigua and it was a good chance to explore the island. A few of us headed to the historic Nelson's Dockyard and Shirley Heights to learn some history of the island.
Jenny Gunn seems to be getting into the West Indian spirit in particular and purchased a steel drum from the dockyard. It was apparently for her nephew, but there have been reports of tinny music coming from her room!
We also managed to go on a snorkelling trip off a local beach, which was a lot of fun. Turtles were the main attraction, although we did come across two swimming Labrador dogs which was slightly unexpected.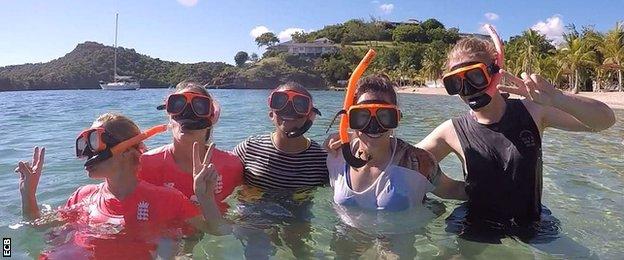 Our own Barmy Army
Now we're out here it's been a countdown to our first game on Saturday against Sri Lanka. It'll be nice to finally get going.
We're also set to have a record number of family and partners that will be here supporting. There are about 40 coming along, so make sure you look out for them in their specially printed T-shirts - courtesy of Danni Wyatt's dad Steve.
Let's hope their support - and yours - can help us go all the way!
University Challenge answers: (1) Sydney; (2) Pakistan; (3) Charlotte Edwards.
But how much does Heather know about her own career? Listen to how she fared on Test Match Special's "Slogbusters"...