Sri Lanka v England: Keaton Jennings played 'Alastair Cook-like innings'

By Jonathan Agnew
BBC cricket correspondent
Last updated on .From the section Cricket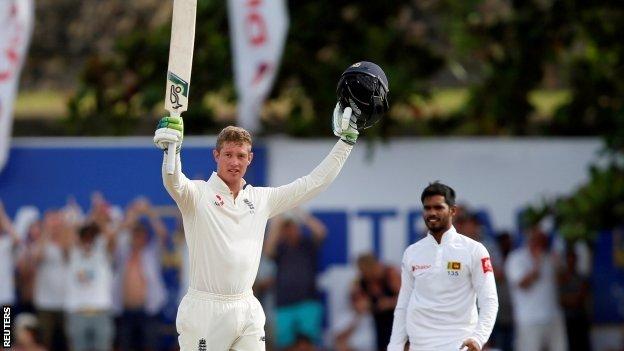 I thought Keaton Jennings' 146 not out was a really outstanding innings.
It was a proper innings, showing every ounce of character and temperament that he clearly has.
I think the person who will gain the second most satisfaction from the innings, after Jennings himself, will be Alastair Cook.
It was the sort of innings Cook would have played under the circumstances, before his retirement.
He was patient, very disciplined and he showed all the concentration and hard work that Cook would have put into it.
All that was different was all of the reverse sweeps. You wouldn't have seen those from Alastair Cook.
He had a slice of luck. Sri Lanka should have reviewed an lbw when he was on 58 - Sri Lanka have to sort out what they are doing there as they are all over the place with their reviews - but you need some luck batting in these conditions and I think Jennings had earned it.
There will be conversations I am sure about Jennings' technique against fast bowling in English conditions, but we have seen twice now, both here and in his debut hundred in Mumbai, that he has the application and the measured approach which is needed to succeed here in the subcontinent.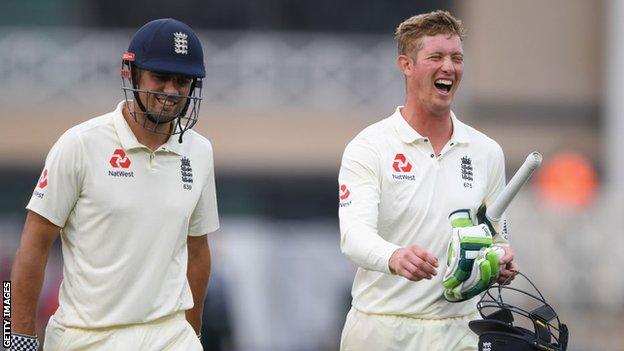 What I liked about how he played - and Ben Stokes' innings of 62 - is how they both allowed the ball come to them.
If the ball spun past the bat then it didn't bother them. They shrugged their shoulders and faced the next ball. That is what you have to do.
That said, I do not know what Rory Burns was doing for his dismissal.
I feared for the opener against off-spinner Dilruwan Perera anyway because he kept playing flicky shots to mid-wicket which I thought were dangerous, but then to run yourself out - what was that all about?
All England had to do today was to set their stall out to bat all day and score 200. It is hard to explain why you would run yourself out in that situation. I am sure he will be very disappointed.
He has had a tricky Test debut. It was not his fault he was caught down the leg side in the first innings but that was crazy really in the second innings.
And Moeen Ali? I don't know what to say about his shot.
I can only think Moeen isn't backing his own defence at the moment.
To be caught at mid-on for three, off your 11th ball, when batting number three, it is really disappointing and again utterly pointless.
England were always ahead of the game but that put a bit more pressure on Jennings, which is why he should be so proud of that innings today.
I now fully expect England to go on and win the game from here. It should just be about how quickly they do it.
I will be interested to see which of England spinners stand up and do it.
It is great opportunity for Moeen, Jack Leach and Adil Rashid but there is always expectation on you when the captain throws you the ball in conditions that suit you.
We have seen Moeen struggle with that expectation in past and Leach found it tricky on his debut on a turning pitch in Christchurch.
Leach has the advantage that at Somerset he is used to bowling on pitches that suit him and is used to bowling teams out.
I would like to see him stand up tomorrow [Friday] and grab his opportunity.
We have seen Jennings grab his chance in this Test, and Ben Foakes too with his century in the first innings.
There is still time for Leach to put his hand up tomorrow and say 'I am your front line spinner'.
It is a great opportunity someone to win a Test match for England in Galle, of all places, and that would have been unthinkable a few days ago.
Jonathan Agnew was speaking to BBC Sport's Matthew Henry.