Sri Lanka v England: Ben Foakes showed top order the way to bat - Jonathan Agnew

By Jonathan Agnew
BBC cricket correspondent
Last updated on .From the section Cricket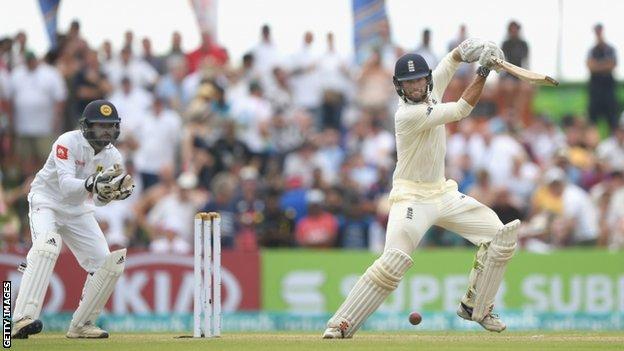 In doing my job I have watched a lot of players make their debuts in Test cricket and personally I was someone who was consumed by nerves in my first Test.
In his innings of 87 not out on day one against Sri Lanka, Ben Foakes showed he could be one of those who easily make the transition from county cricket.
To have come in at 103-5 in his first Test, with England having played so appallingly, could have been a cue for panic but the Surrey man displayed a great deal of calm and showed those before him how to do it.
He moved his feet well. There were no silly chances. He did not try to dominate the bowling like those before him did. He just played as you should on the first day of a Test match and that was all there was to it.
Foakes was only called up to the squad as a wicketkeeper/batsman when Jonny Bairstow was injured during the one-day series.
We will now be talking about selection before the next Test match because Foakes has complicated things - but what I did like was that Bairstow was the first person at the boundary rope to slap him on the back at the end of the day and say well done.
I thought that was a terrific piece of sportsmanship and shows England have a healthy team spirit.
Top order aggression extraordinary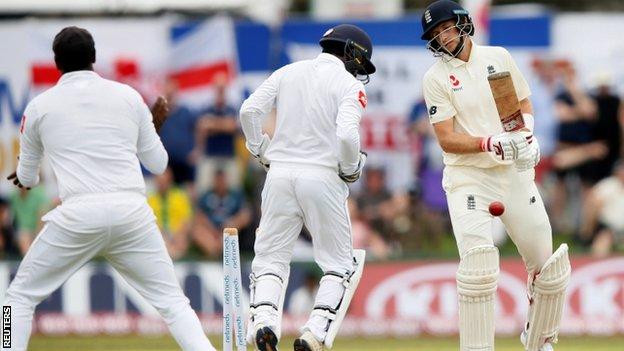 I really did not understand the strategy of England's top order in the morning session. Something went seriously awry.
I say strategy, because the attacking manner in which the top order batted must have been planned.
They were not blown away by awkward deliveries or a devastating spell, but lost their wickets through reckless strokes and a compulsion to bat aggressively. It was extraordinary.
It is not rocket science to know that the strategy England went for is not the way you are going to succeed on the subcontinent.
I am surprised at the tactic because both England coach Trevor Bayliss and his assistant Paul Farbrace have spent time coaching Sri Lanka. They know how to play here and will know that is not the way to play.
England made changes to their team, and I think the team they picked was the right one, but if they play like their batsmen did at the start they will not win here in Sri Lanka. If they play like that, they will lose.
I will excuse Rory Burns - getting caught down the leg side is always an unfortunate way to get out - but the strokes Keaton Jennings, Joe Root, Ben Stokes and Moeen Ali played were really disappointing.
Cricket on the subcontinent is attritional. It is about batting long because while you are batting the pitch is deteriorating and you are then giving your bowlers more of a chance. It is not about trying to cash in and smash a few runs.
We wondered how England would fare without Alastair Cook - who was missing from the Test line-up for the first time since 2006 - and it would not be fair to rush to judgment on just one outing.
But apart from Burns' unlucky dismissal, Cook would not have succumbed like any of the others - bowled leg stump cutting, bowled middle stump sweeping or bowled down the pitch.
If England's top order are to start a new chapter without him, they must show much greater application and maturity than this.
Before a ball was bowled I thought a good score was around 350 but when I saw the way the pitch was behaving I upped that to 400.
England would definitely have got to 400 if they had played properly and not chucked their wickets away.
It is all about getting to 350 and beyond now, and hoping that they bowl well enough to drag them back into it.