Sri Lanka v England: Second Test to go ahead after government moves fans
Last updated on .From the section Cricket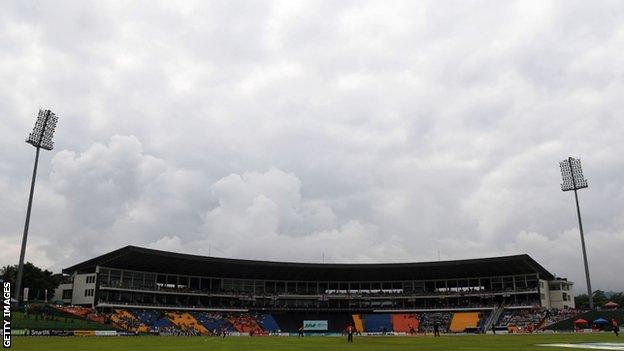 Sri Lanka Cricket says the second Test against England will go ahead in Kandy following accommodation concerns.
The location of the match was in doubt after a double booking meant there was no rooms for Sri Lanka and England players at a nearby hotel.
The Earls Regency, a 16-minute drive from the Pallekele cricket ground, had been fully booked by fan tour groups.
Sri Lanka's government intervened, saying it was a "crisis of national interest".
Faced with the prospect of the match being moved to Colombo, sports minister Faiszer Musthapha wrote to the hotel to ask them to release the required number of rooms to "proceed with the event without any hindrance", adding that "the teams have to be in Kandy".
The ministry said it had booked 69 rooms at three other hotels for England fans to be reallocated to, including the Jetwing Lake Dambulla, which is more than a two-hour drive from the ground.
It has been reported that fans will also receive transport to and from the ground with a police escort and beers and soft drinks on the coach, wine and fruit platter at hotel and lunch at the ground each day.
However, the decision to relocate fans has been criticised.
"It is unsettling to find this out one week before the trip," England fan David Ashdown told BBC Radio 5 live.
"It is very disappointing. One of the pulls for this trip was that we were told the Earls Regency was a lovely hotel and near the ground. You do not want to do a two-hour trip each way however lovely the hotel is."
Nick Hunt runs tour company The Sporting Traveller and had booked 19 rooms at the Earls Regency for his clients. They have all been moved to Dambulla.
"Our clients are the ones who suffer," he told BBC Sport. "This is not unprecedented and has happened before. We were given no choice but to move out of the hotel. But in essence that is not what the clients booked.
"It is frustrating as there is no compromise. They made an error and they insist on giving all players and officials single rooms. Sharing would not have killed them."
Chris Millard, managing director of the Barmy Army added: "Sri Lanka Cricket are at it again. It is inadequate that this has happened for such a series, that brings a huge following of people to the country. They have been let down by the cricket board."
And it's not just fans who have been affected. Talksport commentator Andrew McKenna tweeted: "Fans who are having hotel issues for the Pallekele test we share your pain, we've been stuffed too."
Cricket writer Chris Stocks tweeted: "Update on the Pallekele Test fiasco - after kicking out tour groups from the Earl's Regency @AitkenHotels have now chucked me out."