Sri Lanka v England: Batsmen must channel Alastair Cook - Jonathan Agnew

By Jonathan Agnew
BBC cricket correspondent
Last updated on .From the section Cricket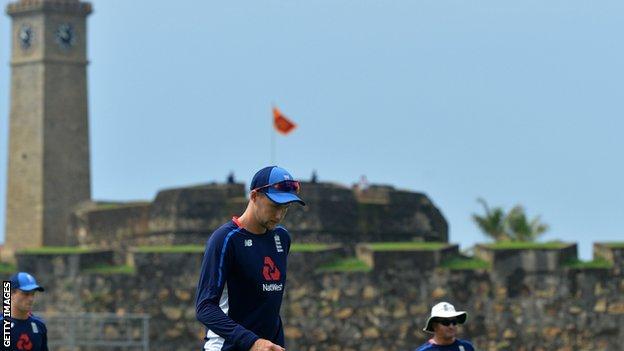 Sri Lanka v England, first Test
Venue:
Galle International Stadium, Galle
Dates:
6-10 November
Time:
From 04:30 GMT
Coverage:
Live text commentary and The Cricket Social programme on the BBC Sport website and app.
I have been touring for almost 30 years and have never previously known a situation in which 16 of a 17-man squad could be picked.
That, really, is where England are as they get ready for Tuesday's first Test against Sri Lanka. It is going to be a revealing few weeks.
It has been 12 years since England last played a Test match without Alastair Cook walking out to open the batting. We know they will get pitches that are going to spin a lot - and Sri Lanka won their last Test at Galle, against South Africa, by 232 runs so you need real strength in the top order.
What they will miss most is Cook's resilience. Cook playing in conditions that are not easy. Cook with his patience and discipline.
Everyone talks about Kevin Pietersen's brilliant 186 in Mumbai in 2012 - and rightly so, as it was a staggering innings - but who was at the other end? It was Cook, who scored a brilliant hundred and shared a 206-run partnership that set up a 10-wicket win.
That is the way people are going to have to play here: give nothing away, bat for as long as you can. It won't be easy. There will be a lot of pressure on, men around the bat, and that's where Cook was so good.
England had Cook for so long and now it's Keaton Jennings. If Cook hadn't retired, you have to wonder if Jennings would have made this tour - and suddenly he is the senior opener.
It looks as though it will be Jennings and Rory Burns to open the innings. They did so in both of England's warm-up matches and I saw them doing some close-to-the-wicket catching practice on Sunday. Their partnership will be crucial.
The first three, as a whole, is totally up in the air. No-one is really sure who is coming in behind them.
Joe Root has never wanted to bat at three - he's always wanted to bat at four. It doesn't suit England to have Root batting at three if he doesn't want to - and he came in at four in England's final Test innings of the home summer, with Moeen Ali at three.
So what do England do? Does Moeen bat at three? Does Joe Denly do that and bowl leg-spin? Denly's stock seems to have fallen over the practice days, but how much can you take away from such little practice?
The top three is where teams get good starts or find themselves in a lot of trouble early, with the opposition all over them. Whoever it is who ends up batting one, two and three has got a major responsibility.
It is also a huge task for England's spinners. They have a very inexperienced Jack Leach, who I think they're going to have to play - despite him only playing in the final warm-up game - and he will have to bowl better than he did on his debut in Christchurch.
England's preparation for this series has been two warm-up matches lasting two days - and one of those days was washed out.
It's deeply worrying for the future of Test cricket - it's totally inadequate.
We say it every time we go away, and we say it often when teams come to England, though I think England are more generous than some. It is a joke. You can't expect people to play Test cricket in totally alien conditions with that sort of preparation.
There was a time last year when scrapping the coin toss to reduce home advantage was discussed. To me, that was simply hiding the fact the batsmen, particularly on tour, aren't having the opportunity to get used to the conditions. It is hopeless.
If the International Cricket Council is serious about Test cricket - and it is serious enough to back the World Test Championship, which begins in 2019 - then the series within that competition should include two four-day matches against proper opposition. That is only fair.
I have been in Galle since Friday and the weather has been mixed, to say the least. It can be beautifully sunny, then you can have a massive downpour out of nowhere. There are storms forecast for the week of the Test match.
There are no floodlights at Galle, so you cannot play through low, dark cloud. This could be a match in which not a huge amount of cricket is played.
The Cricket Social will be on air from 07:00 GMT throughout the Test series in Sri Lanka, and will be streamed on the BBC Sport website and app.