Women's World Twenty20: Celeste Raack joins experienced Ireland squad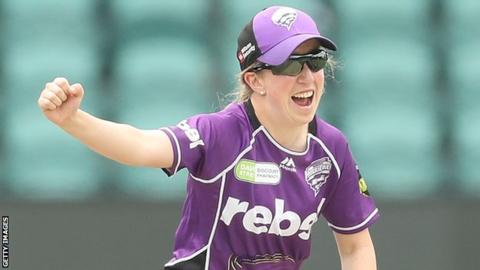 Australia-born Celeste Raack has been named in an experienced 15-player Ireland squad for the ICC Women's World Twenty20 in the Caribbean in November.
Leg-spinner Raack, who holds an Irish passport, comes into the set-up for the tournament after declaring for Ireland.
"I am very excited and honoured to have been selected for Ireland," said Raack.
The squad collectively have racked up more than 1,000 international appearances and will again be captained by Laura Delany.
"This is our third consecutive appearance in the World T20s. We have picked a strong and experienced side that will be best suited for the tournament opposition and the conditions in the Caribbean," said Carrie Archer, chair of women's national selectors.
"Laura Delany will lead out a side which is on an upward trajectory after finishing the summer on a high and keen to impress their credentials on the world stage."
Ireland's World Twenty20 group matches (all in Guyana)
11 November
Australia
20:00 GMT
13 November
Pakistan
20:00 GMT
15 November
India
20:00 GMT
17 November
New Zealand (day/night)
00:00 GMT (18 Nov)
Head coach Aaron Hamilton commented: "I'm delighted that selectors have looked beyond and taken the chance of bringing Celeste into the squad. We are delighted to welcome her into the international set-up.
"Celeste impressed many of us playing for the Typhoons in the Toyota Super 3's this year and has previously played for the Tasmanian Tigers in the Australian women's domestic league."
Raack added: "I am flying in on Friday to join the squad in their preparation for the tournament and am very much looking forward to it.
"I am hoping that this will be the start of a long career as an Irish cricketer and intend on relocating for the start of the 2019 cricket season."
Ireland's longest-serving squad member and highest run scorer Clare Shillington recently announced that she will be retiring after the tournament.
Ireland squad: Laura Delany (capt), Kim Garth, Cecelia Joyce, Isobel Joyce, Shauna Kavanagh, Amy Kenealy, Gaby Lewis, Lara Maritz, Ciara Metcalfe, Lucy O'Reilly, Celeste Raack, Eimear Richardson, Clare Shillington, Rebecca Stokell, Mary Waldron (wk).