Laura Wolvaardt: Meet South Africa cricket's teenage sensation
By Marc Higginson
BBC Sport
Last updated on .From the section Women's Cricket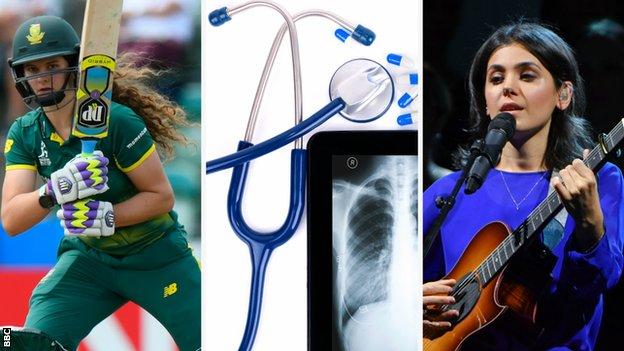 ICC Women's World Twenty20
Venues:
Guyana, St Lucia, Antigua.
Dates:
9-24 November
Coverage:
Ball-by-ball Test Match Special commentary and in-play video highlights on all games on BBC Radio 5 live sports extra and via the BBC Sport website & app; live text commentary on all England & Ireland games, plus selected other matches
When former South Africa captain AB de Villiers used his autobiography to dispel widely-circulated myths about his childhood sporting prowess, it disappointed one or two.
That was not because tales of his brilliance at practically every sport were false - but because it revealed a cricketing genius to be, well, human.
Yes, he could hit 31-ball centuries in international cricket, but he wasn't playing golf off scratch. Nor did he hold South African national records in swimming and athletics.
But delve a little deeper into South African cricket and you might just find a person of unimaginable talent.
One who is an international sportswoman. One who has the academic world at her feet. And one who can both write and sing songs with the apparent talent of a chart-topping artist.
Laura Wolvaardt, who will line up against England in the Women's World T20 on Friday, really is a little bit special.
The cricketer: A debut at 16 & breaking through on the global stage
Wolvaardt, an opening batter, was just 16 when she made her debut for South Africa against England in February 2016.
In only her second match, she scored her first international half-century, against a bowling attack that, 17 months later, led England to World Cup glory.
"In many ways, it was a good thing I made my debut at 16 because you don't really realise what is at stake," recalls Wolvaardt, now 19.
"I was, though, pretty nervous. My feet were not moving properly and I wasn't singing the anthem very nicely.
"The World Cup, a year later, helped me to settle in - that was a great experience."
In that World Cup, Wolvaardt shot to prominence. Having warmed up for the competition with a run-a-ball 149 against Ireland, she averaged 65 in her side's run to the semi-finals in England.
Only three international players scored more runs than her in the 2017 season, and all three were from India, who played five extra matches over the same period.
The student: A career in medicine or international cricket?
Wolvaardt continues to plunder runs and has almost 500 of them in the 50-over game in 2018.
Despite having a lean time of it in the first two matches of the World T20 - she is yet to reach double figures - Wolvaardt remains a real threat to England's hopes of securing a semi-final place in today's decisive meeting.
"Batting is just my favourite thing to do; it's my hobby," said Wolvaardt. "Whenever I'm busy with exams or something and I have an hour off, I go and bat because that's what I like to do for fun.
"I train at a place really close to my house and I just give the coach a call and then we hit a few balls to relieve some stress."
But what happens when batting - and playing for your country - gets in the way of academic progress?
Wolvaardt graduated from high school - Parklands College in Cape Town - with seven distinctions out of seven.
She is enrolled in a six-year medicine degree at Stellenbosch University and knows juggling her studies with top-level sport is difficult, and might eventually prove impossible.
Not too long ago - perhaps even when Wolvaardt made her debut - the choice would have been a no-brainer: playing women's cricket in South Africa didn't pay the bills into adulthood.
However, it is a sign of the ever-increasing popularity and professionalism in the women's game that such a decision is becoming harder to make.
"A few years ago it was always medicine, because that's the stable career path and traditional decision," said Wolvaardt, who is midway through a gap year in which she has concentrated solely on her cricket.
"In the last few years, cricket has presented me with some really great opportunities and the amount that it has grown in the last two years has been amazing.
"It really helps my decision to know that women's cricket actually has a really big future now. It's getting harder and harder to decide."
The singer/songwriter: 'Shades of Katie Melua'
The Women's World T20 is being held in the West Indies and there will be one particular piece of luggage accompanying Wolvaardt around the Caribbean islands of St Lucia and, if they reach the final four, Antigua: a ukulele.
Wolvaardt is a keen singer and songwriter. Her voice is so good that her old school still hosts a music video in which she stars on their Youtube channel, with vocals that are Katie Melua-like in their delivery.
"I think there are a few music videos on there that my school posted in grade nine," said Wolvaardt. "I can't take them off and it's really embarrassing.
"I enjoy playing a guitar and I sing a little so I enjoy making my own music at home but it hasn't been getting the attention it deserves lately.
"It's nothing serious though. I'm a person who goes for the safe options. I doubt I would go and get my own studio somewhere and take a big risk like recording an album."
The person: 'Academically astute but socially awkward'
With so much natural talent in so many different areas, it would be easy for Wolvaardt to lose focus.
That, however, doesn't appear to be a problem, according to South Africa's media relations officer Sipokazi Sokanyile.
"Like all brilliant people who are academically astute, she's a bit socially awkward," says Sokanyile.
"I would probably describe her as being like the quintessential California surfer girl. Home to her is right on the beach.
"It's difficult to get to the heart of her because she's very humble and doesn't really like to blow her own horn.
"She prefers to get to know other people. You find when you're interviewing her, she'll ask you questions instead.
"She's obsessed with cricket and, in particular, batting. She has to be dragged out of the nets, to the point where she gets really upset.
"She does, however, hate practising her fielding, which is surprising because she's brilliant at it. She's taken some brilliant catchers and made some incredible stops in the field.
"She's almost like Jonty Rhodes in the field."