Adil Rashid: Yorkshire & England spinner signs all-format contract at Headingley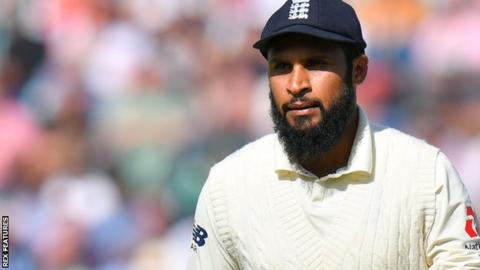 England leg-spinner Adil Rashid will be available to play in all formats for Yorkshire in 2019 after signing a new one-year contract at Headingley.
Rashid, 30, had been on a limited-overs-only deal for the 2018 season.
His future with the county had been in doubt when he cited a "lack of support" following his recall to England's Test team in July.
National selector Ed Smith has said players who want to play Tests will now need a red-ball deal in county cricket.
Rashid, a key member of the England one-day international side which sits at the top of the International Cricket Council's ODI rankings, has been selected to tour Sri Lanka in October and November.
He played in all five Tests of England's 4-1 Test series win over India earlier this summer.
'Still not clear what career path Rashid will take'
All-rounder Rashid played in Yorkshire's County Championship-winning teams of 2014 and 2015, and director of cricket Martyn Moxon was pleased to have "a very valuable cricketer" signed up for the 2019 season - although the situation beyond that is still unclear.
Moxon continued: "For now, it will just be for a year because it's still not clear what career path he's going to take. He's back in the Test team and continues to do well, so we'll see where that takes us.
"Obviously going into 2020 and with the new 100-ball competition, players are waiting to see how that will affect contracts.
"I think for now it's good to have the one year and see how the winter goes for Adil. We'll probably have another look at it after the World Cup [in England and Wales next summer] and see where he is, particularly with England and how much he's involved with them.
"In the short term, it's good to know when he's available he'll be playing for us."
'He's keen to stay here'
Rashid's decision to sign a white-ball-only contract in February led to "a bit of confusion and instability for a little while", according to Moxon.
Yorkshire were particularly aggrieved when Rashid was then selected for the Test team, causing him to miss limited-overs games for his county, with chief executive Mark Arthur saying he was "surprised" and Moxon "disappointed", but that episode now appears to be behind the two parties.
On Rashid's new deal, Moxon added: "I think we've been clear from the outset that we wanted to keep Adil at the club.
"When it became known he had to have a red-ball contract, we were more than happy to put that in place.
"Speaking to Adil, he's keen to stay here and has been here all his life. He's in no mood to change that. We're really pleased to keep him."