Moeen Ali has 'full support' of England team over 'Osama' claim - Joe Root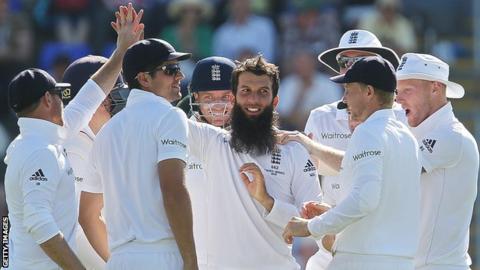 Moeen Ali has the "full support" of the England team over a claim he was called 'Osama' by an Australia player in the 2015 Ashes, says captain Joe Root.
Cricket Australia is investigating the accusation, made by all-rounder Moeen, 31, in his forthcoming autobiography.
He alleges the comment was made in the first Test of the 2015 series, which England won 3-2 to regain the Ashes.
"It's not right in any way that that is said on the cricket field," Root told BBC Look North.
"Most importantly, Moeen's OK and has found a way to carry on playing - it was a long time ago now and it's not hindered the way he's performed.
"He's got the full support of all of our dressing room."
Moeen scored 77 in the first innings and took a total of five wickets in his Ashes debut as England beat Australia by 169 runs at Cardiff.
In an extract of his book published in the Times, Moeen said: "An Australian player had turned to me on the field and said, 'Take that, Osama'. I could not believe what I had heard.
"I remember going really red. I have never been so angry on a cricket field."
The alleged slur appears to be a reference to Islamist terrorist Osama Bin Laden. Moeen, who was born in Birmingham, is a Muslim of Pakistani and English heritage.
Moeen said he told "a couple" of team-mates about the incident and believed England coach Trevor Bayliss raised it with then Australia counterpart Darren Lehmann.
He added: "Lehmann asked the player, 'Did you call Moeen 'Osama'?' He denied it, saying, 'No, I said, 'Take that, you part-timer'."
Bayliss told the Sydney Daily Telegraph that Moeen did not want the issue to be taken further, despite team-mates wanting him to make an official complaint.
The England coach added he did not get a response from fellow Australian Lehmann but considered the matter dealt with at the time.
"It's never nice to hear one of your team-mates and friends has been subject to that," said Root.
"I don't know exactly how far they went with it or whether that was literally all that was said.
"I hope that doesn't happen again in our sport and that Moeen knows that he's got the support of our dressing room to help him through it."