Steven Finn: Middlesex and England seamer had benign tumour removed from knee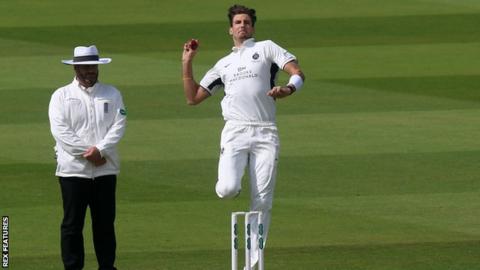 Middlesex and England seamer Steven Finn says a benign tumour caused "complications" in his recovery from a knee cartilage injury.
Finn had an osteochondroma - a growth of cartilage and bone - removed during surgery on the cartilage tear he suffered before the 2017-18 Ashes tour.
The 29-year-old will miss Middlesex's final two County Championship games to rehabilitate his left knee.
"I did rehab all winter and it just hasn't been right," he said.
"I sort of went over to pick a ball up out of the side-netting and collapsed in a heap there and came home and had to have cartilage removed from my knee."
Speaking on BBC Radio London, Finn added: "I also had an osteochondroma removed, which is basically a benign tumour on the inside of my knee.
"I had to have that removed in the same operation so it caused a few complications.
"It wasn't related but it was just something that could have got nasty later in life."