The Hundred: What happened at 100-ball Trent Bridge trials?
Last updated on .From the section Cricket378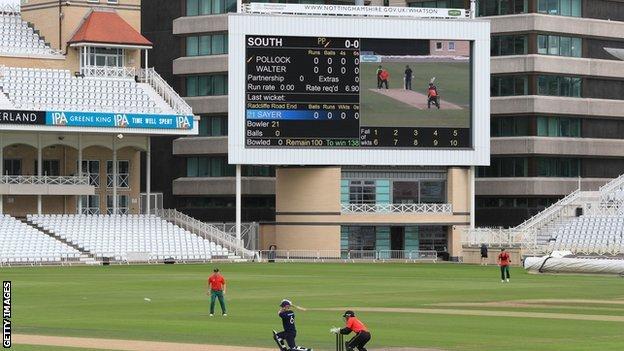 Trials for the new 100-ball cricket format - called, logically enough, 'The Hundred' - continued with two North versus South matches at Trent Bridge on Monday.
Aimed at attracting a wider audience to the game, the eight-team event in seven UK cities will be played over five weeks starting in 2020.
The rules, at least per Monday's games, see the 100 balls delivered in blocks of 10, with each bowler permitted a maximum of 20 balls, either in blocks of five or 10. The bowling changes end every 10 balls, but a bowler can deliver the last five balls from one end and the first five from the other end if desired.
The North won the first game by nine runs in two hours 17 minutes and then claimed the second, by six wickets.
A number of England international players have backed the concept, but the Professional Cricketers' Association has expressed its concern and India captain Virat Kohli has said he cannot imagine the need for another form of the game.
This is the second pilot day at Trent Bridge, with one more to follow on Tuesday.
A third women's trial match will take place at Loughborough on 27 September.
There will be a board meeting in November to determine the rules, with team names for the new franchises still under discussion.
What were the other rules?
A 20-ball powerplay to start the innings - with two fielders allowed outside the 30-yard circle.

Thereafter, fielding captains allowed a strategic timeout of up to two and a half minutes up to the 70th ball, only permitted after a bowler's five-ball block ends.

During these pauses in play, coaches can enter the field.

New batsman has 30 seconds to reach the crease and will always face the next delivery, even if the previous batsmen have crossed during a catch or run-out.

Two substitute fielders permitted to replace bowlers, who can return to bowl at any time.

Regulations remain a work in progress at this stage and could be subject to further change before the format is finalised.
What happened in the matches?
It took one hour and six minutes - including the maximum timeout - for the North to score 137-7.
Warwickshire opener Ed Pollock and Essex's Paul Walter got the South to 66 without loss after 25 balls of their reply, prompting North captain Samit Patel to call for the timeout.
It seemed to work as the South then went from 75-0 to 128 all out after 97 balls.
In match two the South were bowled out for 106 in 92 balls, the innings lasting 52 minutes.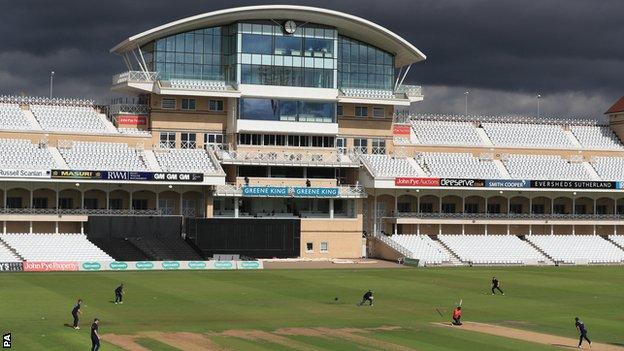 What did those involved say?
North captain Samit Patel: "These trial games are just to see where we're at. I'm sure there will be different rules and regulations that may come into it but, for this bit, I think it's been pretty good.
"It did feel shorter. I know I bowled a lot of spinners - the interesting fact would be when I have to bowl the seamers, and how much time we have between overs, that kind of stuff.
"I reckon that you need to get that message across that there is a 'wow' factor of balls left, not a little thing on the bottom of the screen where people won't be able to see it."
Worcestershire's Daryl Mitchell, chairman of the Professional Cricketers' Association, who featured in the second match: "We are not far away from where we want to be."
North coach Mark Ramprakash: "The captains have had to be really sharp, the bowlers have to be on their toes and could be called upon at any moment.
"It is very consumer friendly; it's a shorter, sharper format. It's taking things to a more simple level.
"It's very easy to be a bit suspicious of new things - T20 was frowned upon and a lot of people didn't think it would work. I think this can sit in the domestic calendar and it's going to be very interesting to see."
ECB consultant Trent Woodhill: "Games that have had the strategy break, there's been a change. There have been wickets falling straight after."
Analysis
Jonathan Agnew, BBC cricket correspondent
"What we're watching is effectively a T20 game. There is some tinkering - it's 100 balls, it's got to be done in 65 minutes, it gives it a two-and-a-half-hour time frame.
"There are huge established cricketing areas of the country that are going to have to form allegiances. Leicester hate Nottingham, so why are their fans going to come to Trent Bridge to watch a team that might not have any of their players in it?
"They want new people to come and watch it but I had scores of messages from people who went to The Oval last week to watch the Test match because of Alastair Cook, James Anderson and England. They had never been to a cricket match before - they will come back because they loved what they saw."
Agnew also tweeted: "I'm not convinced it's radical enough either to offend or be the magic bullet.
"We don't know the precise format yet. It is for a new audience. So If I like it, that is not what the ECB wants. If I don't like it, my view is irrelevant anyway."