Steven Crook: Northants all-rounder will retire at the season's end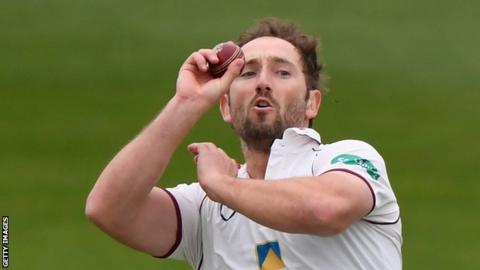 Northants all-rounder Steven Crook will retire from all forms of cricket at the end of the 2018 season.
The 35-year-old has spent 11 years at the County Ground, so far scoring 4,043 runs and taking 207 wickets in first-class cricket.
The Australian was in the Steelbacks side that reached Division One in 2013, and won T20 titles in 2013 and 2016.
"It's been an incredible ride living out my childhood dream of being a professional cricketer," he said.
Crook has spent his entire professional career in England, joining Northants in 2005 after an initial two-year spell at Lancashire.
He spent two seasons at Middlesex after leaving for Lords in 2011, and was awarded his County cap in 2013 after returning to Northants.
Crook added: "I'm really proud to have played for such a long time. I feel it's the right time for me to hang up my hat and look forward to new challenges off the field.
"I'm going to miss the camaraderie and banter in the dressing room that we've had as a tight group of mates, but the memories that I've made will last a lifetime."
Northants head coach David Ripley told the club website: "Steve's been a superb player for us. He's been an integral part of the club's success over the last six years.
"He's a great character to have in the dressing room and is a positive influence on the players around him. On the field he's a fierce competitor, a 100 per cent person, day in, day out."