Glamorgan Cricket: New faces needed for 2019, admits Croft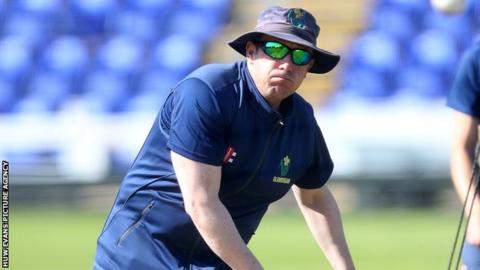 Glamorgan head coach Robert Croft says the county need new faces to boost their inexperienced batting line-up.
A nine-wicket reverse against Gloucestershire was their ninth loss in 12 Championship games.
"Hugh (Morris, director of cricket and chief executive) and I are constantly assessing the players we have, with their age and stage," Croft explained.
"Also the need to add more senior players to complement them and assist their growth."
Croft, who has been head coach for three years, and Morris will face a members' forum on Monday 24 September.
Glamorgan have been short of senior top-order batsmen in 2018 apart from the three official 'overseas' players, Shaun Marsh followed by Usman Khawaja and now Stephen Cook.
It follows the decision of Colin Ingram to play only limited-overs cricket from 2018 onwards, and the health-related retirement of batsman Will Bragg in 2017.
"We are very aware of the style of cricketer we want to bring in to our squad, and that's not being critical of the current squad, this is to bring players in to assist the development of our current squad," Croft told BBC Sport Wales.
So does that mean a loosening of the purse-strings for the county's budget?
"I hope so. The most important thing to Hugh and I is that we provide as good a team as possible on the field. There are certain stages in any club's history where money is tighter than others, and we've had a tight period.
"But we are fully committed to assisting the players we have, and that will need the introduction of some new faces."
Most of the county's current senior squad are under contract for 2019, although an announcement is expected soon on all-rounder Craig Meschede.
Meanwhile Championship captain Michael Hogan says he has not considered yet whether he wants to keep the role next season.
Hogan, 37, says he would be happy to continue just as a player if preferred by the club and admits it has been difficult to enjoy his first full campaign in charge.
"There's no doubt it has been frustrating, and tricky to find positives at times. I enjoy playing the game, but it's not so enjoyable at particular times. The last six weeks has been tough but I keep doing my best to drag them in the right direction."