Suzie Bates replaced by Amy Satterthwaite as New Zealand women's captain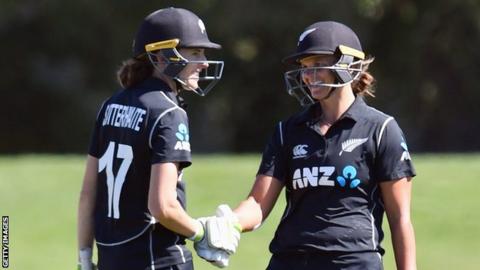 All-rounder Suzie Bates has stepped down as New Zealand captain after nearly seven years in charge.
Bates, 30, the leading run-scorer in the history of women's Twenty20 international cricket, will be replaced by batter Amy Satterthwaite, 31.
The change takes place less than two months before the start of the ICC Women's World T20 in the West Indies.
"Captaining New Zealand was a great honour and a rewarding experience. I gave it my all," said Bates.
"The last 12 months, I've probably struggled with captaincy and playing, and it has affected my performances, particularly at the end of seasons where I've been more fatigued."
Bates, who made her international debut in 2006, was named as Wisden's leading female cricketer in the world in 2015, and has twice been the International Cricket Council's women's one-day international cricketer of the year.
She was player of the tournament at the 2013 World Cup, and also represented New Zealand in basketball at the Beijing Olympics in 2008.
Satterthwaite, who has previously stood in as White Ferns skipper in three ODIs, added: "It's a huge honour to be asked to captain your country. Suzie has done an outstanding job and I'm sure she'll continue to contribute considerably in a leadership sense."
Her first job as full-time captain will be a Twenty20 series in Australia at the end of this month.