Northern Ireland club cricket: Waringstown retain Irish Senior Cup
By Oliver Thorpe
at Stormont
Last updated on .From the section Cricket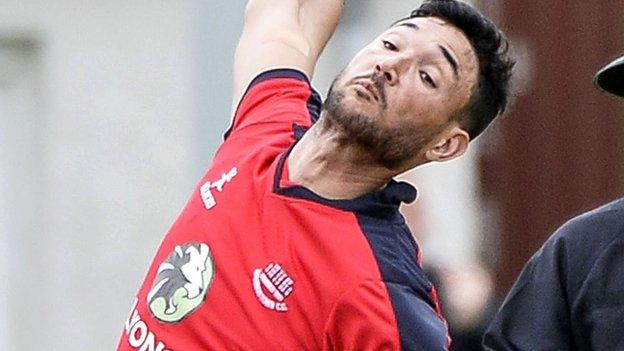 Waringstown have retained the Irish Senior Cup with an 85-run victory over Merrion in the final at Stormont.
James Hall hit 74 runs and Shaheen Khan scored 71 as the Co. Down side posted 264-7 in their 50 overs.
It is the Villagers' third Irish Senior Cup success in four years, after they defeated Merrion and The Hills in the 2015 and 2017 finals.
Merrion's bowlers were not allowed to settle as Hall and James McCollum (54) put on a 127-run partnership.
Skipper Dominick Joyce used seven bowlers, with John Anderson claiming the best figures with 3-28.
The Dublin outfit lost wickets at regular intervals in reply and were in danger at 68-3 before Michael Lewis and Tyrone Kane delivered 45 together to salvage some hope.
Lewis fell for 46 after he edged Gary Kidd behind to Marcus McLean.
Kane and Jack Carty then fell in quick succession as Lee Nelson and Kyle McCallan picked up the wickets, with Merrion bowled out for 179.
Khan was the pick of the Waringstown bowlers as he took 2-23 to win the man-of-the-match award.
The victory was their sixth Irish Senior Cup success, making them the most successful club in Irish cricket history, surpassing North County who have won five.
Meanwhile on Sunday champions CIYMS finished their season with yet another victory.
They suffered one league loss during the season and that was the first game in April by three runs at North Down.
CSNI's victory moves them up to fifth in the table and there is still a home game to fulfil against Waringstown. Relegated Armagh only managed the one win from their 13 games and it was also right at the start against Muckamore by 70 runs.
Sunday results
CIYMS v Armagh - Match 2 - 20/20
CIYMS 204-2 M McGillivray 98 no, N Jones 72
Armagh 97
CIYMS won by 107 runs
CSNI v Armagh - Match 2 - 20/20
CSNI 180-4 C McMorran 56, M Ellison 40
Armagh 98-4 C Russell 40 no
CSNI won by 82 runs
Saturday results
Irish Senior Cup final
Waringstown v Merrion
Waringstown 264-7 J Hall 73, S Khan 71 not out; J Anderson 3-28
Merrion 179 (42.1 overs) M Lewis 46; S Khan 2-23, G Kidd 2-35
Waringstown won by 85 runs
Long's SuperValu Premier League
Ardmore's defeat by Ballyspallen means they are relegated along with Fox Lodge.
Ardmore v Ballyspallen
Ballyspallen 263-8 G McCallum 93, J Kennedy 92; G Neely 4-24
Ardmore 173 (42.2 overs) D Curry 46, G Neely 38, S Lazard 35; C Averill 3-18, S Kennedy 3-48
Ballyspallen won by 90 runs