T20 Blast Finals Day: ECB to review counties' allocation following big ticket shortage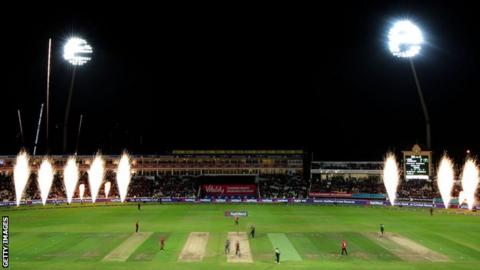 The England and Wales Cricket Board is to review ticket allocations for T20 Blast Finals Day after too many fans of the four semi-finalists missed out.
Following poor previous sales to the competing clubs, the ECB opted to reduce the share from 800 to 500 each.
But Worcestershire's first appearance at Finals Day has created bigger demand - and ticketless fans from Lancashire, Somerset and Sussex are also upset.
"It's an awful situation," ECB spokesman Andy Wilson told BBC Sport.
"It's just apologies really, that people who want to go can't go.
"It's not in the ECB's interest for fans of a county team not to be able to go and watch their side in a final," he told BBC Hereford & Worcester.
"Finals Day has a history of not selling out, or rather the semi-finalists who qualify not selling out their allocation of tickets. A couple of years ago the decision was taken to reduce the number of tickets allocated to each of the semi-finalists, which is 500 each.
"That figure wasn't just plucked out of the air. They'd been on about 800 for the previous four years. But only three times had any of the semi-finalists sold their 800 allocation. Two of those were Birmingham Bears. The other was Lancashire.
"Last year, one of the four sides did not sell out their allocation. This year it's clearly very different.
"In Somerset, there's a big demand down there, and both Lancashire and Sussex sold out in minutes.
"It'll be reviewed at the end of the year, just as it was a couple of years ago, when they went from 800 to 500."
112 unanswered calls
Worcestershire supporters attending this week's County Championship game in Lancashire were particularly aggrieved that the club chose to sell their ticket allocation on the first day of that game - while they were at Trafalgar Road, Birkdale, watching the Pears play.
Almost all of them missed out on tickets to the 25,000-seater venue. One fan called the club 112 times in an attempt to get through - before finally receiving an automated phone message to say they were all sold out.
Worcestershire chief executive Matt Rawnsley told BBC Sport: "Clearly the allocation of 500 tickets each for the counties participating in T20 Finals Day has been way below our expectations.
"It has put all counties in a terrible position, with each county having differing policies on how to administer the sale of tickets.
"We have some lessons to learn, but I'm confident that prioritising our members was the right thing to do.
"However, I know many have missed out, which is disappointing for everyone."
T20 Finals Day takes place on Saturday, 15 September at Edgbaston.