Aneurin Donald: Welsh batsman says England dream behind Hampshire move
By Gareth Griffiths
BBC Sport Wales
Last updated on .From the section Cricket
Batsman Aneurin Donald says his ambition to play for England was the driving force behind his move from Glamorgan to Hampshire.
Donald wants to become the first Wales-born England player since Simon Jones in 2005.
"This will bring me closer to my goal of playing international cricket," said Donald.
"I am confident and feel as if I have the ability.
"This (Hampshire) is the best place for me to try and get on a Lions tour first and then move on to higher honours again as soon as possible.
"There are things I need to work on and things need to click but I feel as if I have it in me."
Glamorgan chief executive Hugh Morris said he was very disappointed Donald had turned down a new three-year contract offer, while head coach Robert Croft insisted they had done everything to keep him.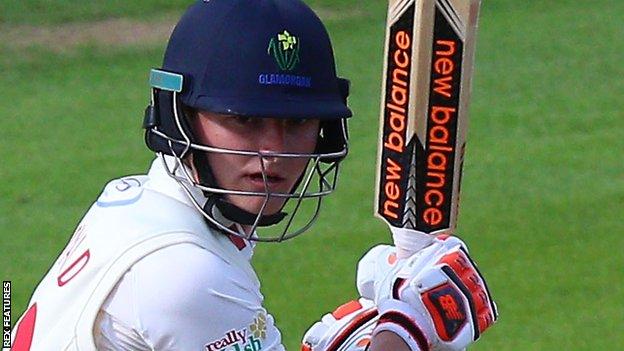 "It was a massive decision, one of the toughest things I have ever done," said Donald.
"As a proud Welshman and playing for the only Welsh county, it was not a decision I took lightly.
"I understand Glamorgan's disappointment and it has been a tough few months.
"I am grateful to all the opportunities Glamorgan have given me. I have so many people to thank over the years from Wales Under-11 cricket to the Glamorgan first team.
"It has been a tough year or two at Glamorgan. I wish them all the best and want them to do well and hopefully, one day, maybe I can even return."
Donald says the move to Hampshire was purely for cricketing reasons.
"It just came to the point where I needed a fresh challenge," said Donald.
"I was not desperate to leave, I just happened to come across a fantastic opportunity with Hampshire which I felt I could not turn down.
"I felt my game was stagnating at Glamorgan and this was a great opportunity to push my batting on in all three formats."
The former England Under-19 captain announced himself on the county stage in 2016 when he equalled the world record for the fastest first-class double century from 123 balls against Derbyshire at Colwyn Bay.
Donald has since struggled to build on this achievement and was dropped from Glamorgan's County Championship and 50-over sides but remained as a T20 opening batsman.
"My form has been up and down over the last couple of seasons," admitted Donald.
"I have had a couple of technical difficulties and it is about going back to basics.
"I am only 21 and have a long way to go. I made my Glamorgan debut at 17 and have played a lot of games for someone my age.
"Red ball cricket is an area I know I need to improve on. Hopefully I will have the chance to play first division in the County Championship if Hampshire stay up.
"First Division runs tend to be worth a little bit in the eyes of higher honours.
"I have favoured the T20 format and going to a team that has regularly won white ball cricket trophies is a massive draw."