England v India: What is wrong with England's batting?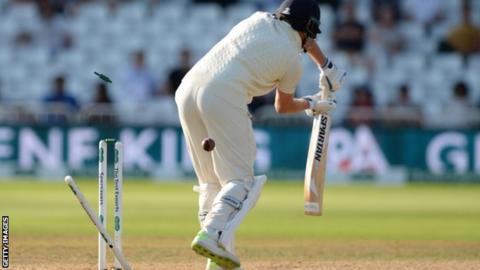 England, with the best professional cricket structure in the world, are fifth in the Test rankings.
If they lose the current series to India, they will slip to sixth, below Sri Lanka.
A chastening 203-run defeat at Trent Bridge reduced England's series lead to 2-1.
Before the fourth Test at Southampton starts on Thursday, BBC Sport asks: what is England's problem?
The simple answer
The main problem has been the same for the past three years: England rarely make enough runs to give their record-breaking bowlers James Anderson and Stuart Broad enough to defend.
Despite the presence of England's all-time leading run-scorer Alastair Cook and Joe Root, one of the best batsmen England has ever produced, there is still about as much security to their batting as in a cardboard safe.
The statistics are damning.
In 35 of their past 65 completed innings since 2015, England have failed to reach 300.
That is the benchmark score in a Test, the one teams generally regard as a bare minimum to compete.
The source of this failure is the top order. In the past three years, England have been 100 (or less) for four wickets down 31 times out of 62. So, as a unit, the top five batsmen are failing 50% of the time.
There are a few reasons for this...
The opening merry-go-round
Since the retirement of Andrew Strauss, England have not had a stable opening partnership.
Opening partnerships are absolutely vital to the health of a side. They are the foundation on which success is constructed.
The two most dominant post-war Test teams - West Indies of the 1980s and Australia of the late 1990s - had phenomenal opening pairs: Gordon Greenidge and Desmond Haynes, and Matthew Hayden and Justin Langer. England's most successful recent period was when Cook and Strauss were in harness.
Partly because county cricket is now played at the beginning and end of the season in seamer-friendly conditions, few openers make enough runs to find form and confidence and make a statement to the England selectors with weight of runs.
That explains why Cook has had so many different opening partners.
England's openers since Strauss retired
Runs
Average
Centuries
Duckett, Moeen, Trott & Buttler have also opened but scored fewer than 100 runs apiece
Cook
5,621
41.94
12
Hales
573
27.28
0
Stoneman
526
27.68
0
Compton
498
31.12
2
Jennings
417
23.16
1
Root
417
41.70
1
Robson
336
30.54
1
Carberry
281
28.10
0
Lyth
265
20.38
1
Hameed
160
32.00
0
Modern openers also adopt a completely different approach. Recalling the way he began an innings, the great India batsman Sunil Gavaskar said: "We accepted that the first 45 minutes of an innings belonged to the bowler. You take a back seat. Let them dominate. Let them beat you outside the off stump or hit you on the pad. You just hang in there.
"Once the ball starts to lose its hardness and swing a bit less and your feet start to move, then you can cash in.
"Waiting for the bowler to tire is not the modern way. Today's batsmen would rather take the attack to the bowler.
"It's exciting when it comes off. And there is no scolding of a batsman from the coaches when he gets out trying to play a shot. In my day, before you'd even taken off one strap of your pad there'd be a captain in your ear saying: 'What the hell were you trying to do?'"
'The culture of intent'
The general lowering of first-class batting averages in England is primarily because of this aggressive approach: see ball, hit ball. It is a culture of intent.
It works against the white Kookaburra ball and it becomes ingrained, but then batsmen get unstuck playing against international bowlers armed with the red Dukes ball.
Ollie Pope, a hugely talented young player, is a good example of this.
In his few brief Test innings he has shown a fine natural style but little inclination to cautiously defend or leave a delivery. He wants to score, to feel bat on ball.
He was out for 16 at Trent Bridge chasing a wide ball that he did well to reach, having already sliced several other half-chances from good-length balls through the slip cordon. He has played considerably more innings for Surrey in one-day cricket than four-day cricket.
James Vince, one of Pope's predecessors in the England middle order, was also guilty of this. He would get to 30 and then, feeling pressure to score, would play a loose drive and be caught at slip.
In 22 Test innings, Vince managed an average of only 24.90 and was politely told to go away and make some substantial scores in county cricket.
Batting with South Africa's Hashim Amla for Hampshire seems to have done the trick.
Amla's philosophy is not to look at the scoreboard but to bat time, ticking off an innings in 15-minute chunks. The longer you bat the easier it becomes.
Since being discarded, Vince has responded with a double hundred in the County Championship, 171 in the semi-finals of the One-Day Cup and 74 and 147 in his most recent four-day match for Hampshire.
Perhaps the penny has finally dropped. The selectors certainly think so and Vince has been recalled as cover for Jonny Bairstow for the fourth Test at Southampton.
The challenge of batting under lights
There is another less obvious reason for England's recent batting struggles: floodlights.
Their use at Test grounds has allowed play on many overcast days when, in the past, it would be suspended for bad light or even light drizzle.
While that is wonderful for the paying spectators and the general survival of the Test format, it is tough on batsmen.
The illumination provided by the best floodlights is only a fifth of the power of natural daylight - even when it is cloudy. The ball also swings more under lights.
Batting in these conditions against the new ball is exceptionally demanding. English batsmen are more often exposed to these difficulties. Cook has even privately recommended a pink ball for use in these conditions.
The mental game
There seems to be less inclination from modern English batsmen to grind their way out of trouble. The default is offence rather than defence.
To play a substantial Test innings requires an awareness of the conditions, a recognition of the state of the game and the level of threat of different bowlers.
Players need to be adaptable. Sometimes it is necessary to revert to survival mode if a certain bowler is proving particularly difficult. Fewer players seem prepared to do that.
Following the lead of Virat Kohli and Chetashwar Pujara - a red-ball specialist - in India's second innings, Ben Stokes and Jos Buttler, usually two of England's fastest scorers, properly applied themselves, reining in their attacking instincts. The result was a 169-run partnership lasting almost 60 overs.
That partnership should be captured on a memory stick and given to every aspiring young batsman.
So too should Buttler's comments on his maiden Test hundred after scoring six in one-day internationals.
"It gave me a lot more fulfilment," he said. "It's tough cricket, it tests you in all sorts of ways and it's definitely the proudest moment in an England shirt."