Mitchell Johnson: Former Australia fast bowler retires from cricket
Last updated on .From the section Cricket107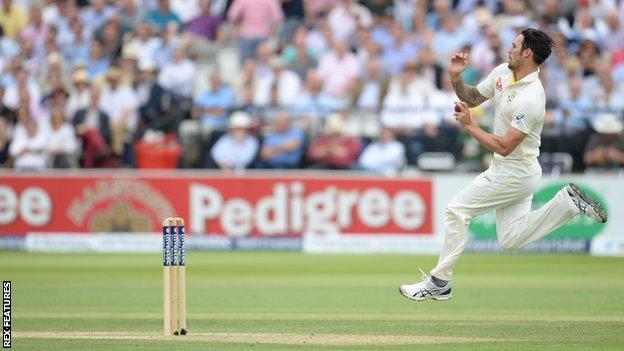 Former Australia fast bowler Mitchell Johnson has retired from cricket.
The left-arm paceman retired from the international game in 2015 but had since played in Australia's Big Bash and the Indian Premier League.
The 36-year-old said he "had hoped to continue playing in various Twenty20 competitions around the world" but decided to "it was time to move on" after struggling with back problems.
"My body is starting to shut down," Johnson wrote on the Perth Now website.
"But I think mentally I'm done as well.
"If I can't play at 100% then I can't give my best to the team. And for me it's always been about the team.
"I'm ready to break clear of playing cricket and move on to the next period of my life."
| Johnson's bowling stats | | | | |
| --- | --- | --- | --- | --- |
| Format | Caps | Wickets | Average | Strike rate |
| Tests: | 73 | 313 | 28.40 | 51.1 |
| ODIs: | 153 | 239 | 25.26 | 31.3 |
| T20s: | 112 | 123 | 25.78 | 20.2 |
Johnson, who regularly bowled at speeds well in excess of 90mph, is fourth on Australia's list of all-time Test wicket-takers with 313, 37 of which were taken during Australia's 5-0 whitewash of England in 2013-14, which Johnson referred to as a "stand-out" memory of his career.
The Queenslander joined the Perth Scorchers following his retirement from international cricket and also had stints with the Mumbai Indians, Kings XI Punjab, Karachi Kings and Kolkata Knight Riders in the IPL.
Johnson - who was also a handy lower-order batsman with a Test century to his name - said he had not lost his "competitive urge" and might stay in the sport in a coaching capacity.
"I'm a believer in sticking to your strengths and cricket is my strength," he said.
Awesome and terrifying - analysis
BBC Sport's Stephan Shemilt
Few players have become as inextricably linked to a single series as Mitchell Johnson to Australia's 5-0 whitewash of England in the 2013-14 Ashes.
Johnson's searing pace was as awesome as it was terrifying, made all the more sinister by a jet-black handlebar moustache.
During those five Tests, every delivery Johnson bowled was an event, full of danger for an England batting line-up that was dismantled in front of a baying home crowd.
Although Johnson stalked his way through English nightmares, even England fans can recognise a wonderful tale of sporting redemption after he was tormented by the Barmy Army in 2010-11.
Then, as England claimed a historic win down under, Johnson became a figure of fun, the subject of a song that claimed "he bowls to the left, he bowls to the right" as he struggled with his accuracy.
While he may be best remembered for his Ashes peaks and troughs, Johnson was supremely talented all-round cricketer - only Shane Warne, Glenn McGrath and Dennis Lillee have taken more Test wickets for Australia.